Robert Salanitro specialized in children's book and illustrations with humors; he worked as a freelance cartoonist for Canada Pharmacy Online.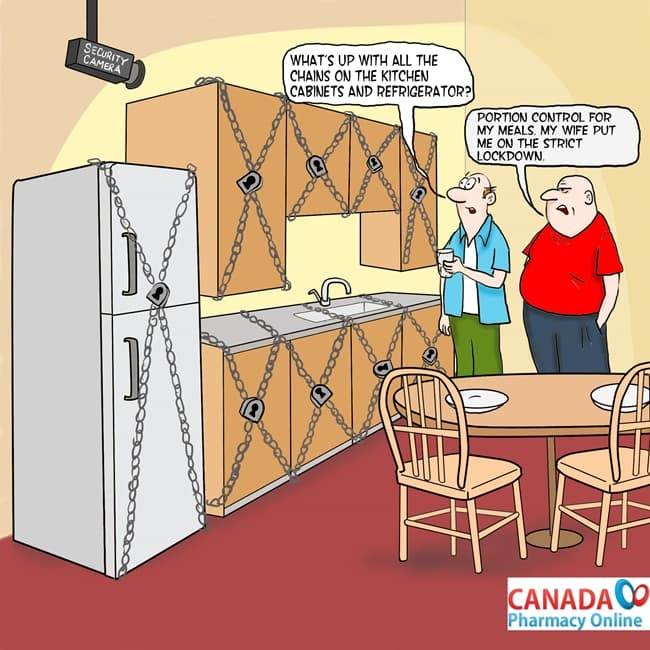 Ever since Herman's visit to the doctor last month, his wife has been monitoring his every move. Because he found out he was over weight and his cholesterol was extremely high, his wife made sure to watch what he eats. She also signed up Herman with the local gym, enrolling him in Zumba, Cycling and Swimming classes. Since Herman loved his cell phone and social media, his wife installed a Diet App on it. It seemed Herman was surrounded by all different ways to loose weight. But it didn't stop there, Herman's wife had other ways to control and make him lose weight.
SEE ALSO: Fiber's Trusty Sidekicks
It wasn't until one day Herman's friend came to visit him at his house and to his surprise came upon something disturbing. As he went to the kitchen to get a glass of water he noticed all the kitchen cabinets and refrigerator had chains around them. And in corner of the room, on the ceiling, there was a camera hovering above. With a shocking look he asked Herman "What's up with all the chains on the kitchen cabinets and refrigerator?" Herman replied "Portion control for my meals. My wife has me under strict lockdown". Herman's friend replied "I know how it feels, my wife monitors what time I need to return home".
###
We hope you found our cartoon funny. Feel free to grab this code and share the image on your website or blog.