Robert Salanitro specialized in children's book and illustrations with humors; he worked as a freelance cartoonist for reputable Canadian pharmacy.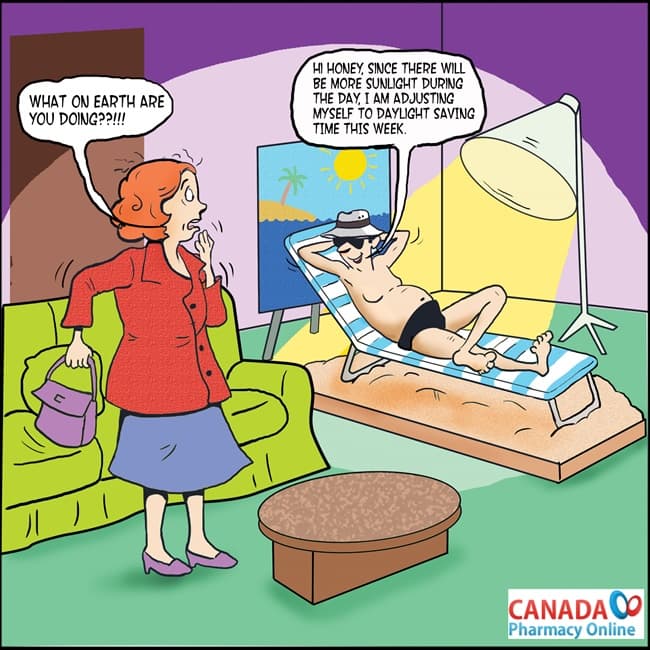 It's that time of the year again when we turn the clocks one hour ahead. Jerry a middle-aged man has been anxiously waiting. Jerry has been very worried about the Daylight Saving Time ever since he watched the local news. They had reported how Daylight Saving Time may boost the chances of developing a stroke, particularly for those already at high risk. Jerry already had high blood pressure, was a little over weight and was not fond of exercising. So Jerry panicked and first thing he did was schedule an appointment with his doctor. The day of his visit, the doctor explained how the body needs to adjust to the time difference. He advised Jerry to take a nap for 15-20 minutes, but not longer, reduce coffee intake, go to bed earlier and wake in the morning, pull the curtains to let the sunshine come inside.
As Jerry drove home from the doctor that day, he was still worried about the time difference and chances of a stroke. So Jerry had an idea, he would take it a step further than the doctor recommended. That week Jerry decided to do some rearranging in his living room.
One day, Jerry's wife returned from a long day at work. When she opened the door she could not believe her eyes. She said, "WHAT on earth are you doing??!!" Jerry replied: "Hi Honey, since there will be more sunlight during the day, I am adjusting myself to Daylight Saving Time this week. It was as if the living room was converted to a beach resort, there was a sun lamp, picture of a beach, sand and a beach chair. The next day Jerry's wife booked a seven day vacation in a beach resort somewhere in the Caribbean. She told her husband, "I think we both need a real vacation".
###
We hope you found our cartoon funny. Feel free to grab this code and share the image on your website or blog.