Robert Salanitro specialized in children's book and illustrations with humors; he worked as a freelance cartoonist for certified Canadian pharmacy.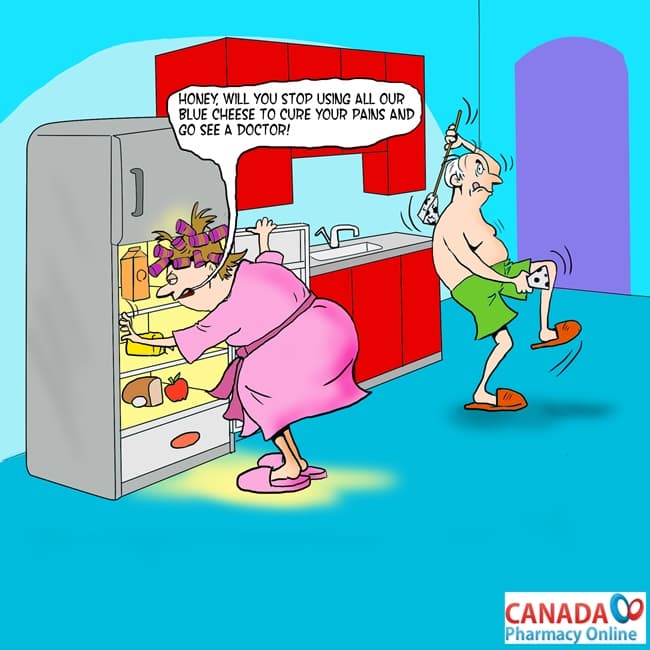 Ever since Norman was a little boy, he never liked going to the doctors when he got sick. This may have been due to his grandma who always treated Norman with home remedies. He saw his grandma as the natural healer and learned many of her home remedies secrets from her. These home remedies were passed down to generation to generation. Many of these home remedies could be found in the kitchen such as fruit, garlic, cheese, onion and the list goes on and on. When Norman's grandma passed away she gave him the most sacred book a person could want. It was a book on home remedies passed by his great grandparents.
One day, Norman woke up with excruciating muscle spasm that started from his shoulder down to his leg. The pain was unbearable. As usual Norman headed to the kitchen to find some home remedy suitable for pain. So he took some blue cheese and rubbed it on his body, from his shoulders to his feet. Shortly after, Norman's wife Peggy entered the kitchen to make her daily lunch. She never knew what foods would be missing from the refrigerator due to Norman's home remedies. Peggy said to her husband in angry voice, "Honey, will you stop using all the blue cheese to cure your pains and go see a doctor". Norman replied " you are right honey, I am tired of smelling like a different food everyday". And off to the doctor Norman went.
###
We hope you found our cartoon funny. Feel free to grab this code and share the image on your website or blog.