Robert Salanitro is an American cartoonist who is known for witty and funny cartoons. Robert writes and illustrates the weekly cartoons for Canada Pharmacy Online.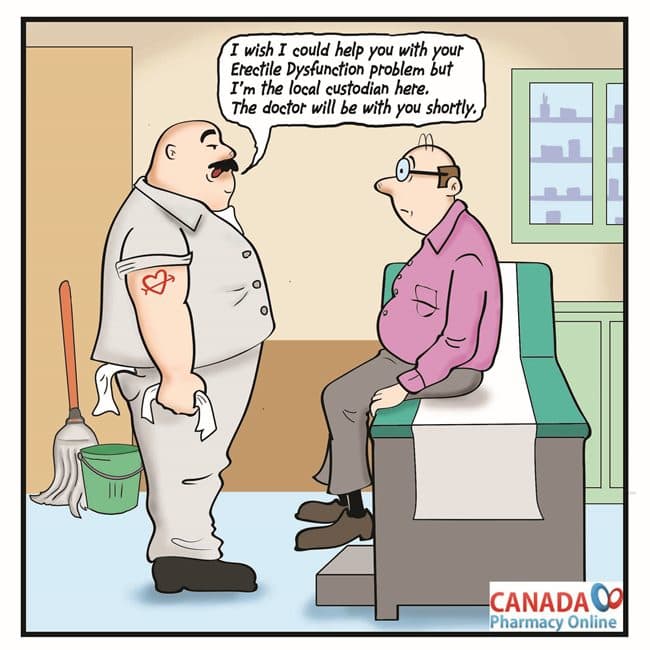 Gary has been suffering from erectile dysfunction for quite sometime. He also feels extremely embarrassed about the situation and does not feel very manly. He worries if his friends find out about his problem, he'll be laughed and ridiculed. He reads books and researches countless hours on the internet hoping to solve the problem himself but still nothing resolved. His wife has been very agitated over the situation and keeps pressuring him to go see a doctor. Gary is even embarrassed to see a doctor. He finally convinces himself to make an appointment with a doctor. The day of his appointment Gary storms in the doctor's office and only sees the doctor's back view, organizing the counter. He says "Doc you need to help me with my erectile dysfunctional, my wife is unsatisfied, I can't sleep, I tried all kinds of home remedies and I am afraid of loosing my MOJO". Then all of a sudden the person he was talking to turns around and tells him, " Sorry, I am not the doctor but the local custodian here at the hospital". Only silence filled the room.
SEE ALSO: Funny pharmacy cartoons
###
We hope you found our cartoon funny. Feel free to grab this code and share the image on your website or blog.