Robert Salanitro specialized in children's book and illustrations with humors; he worked as a freelance cartoonist for CanadaPharmacyOnline.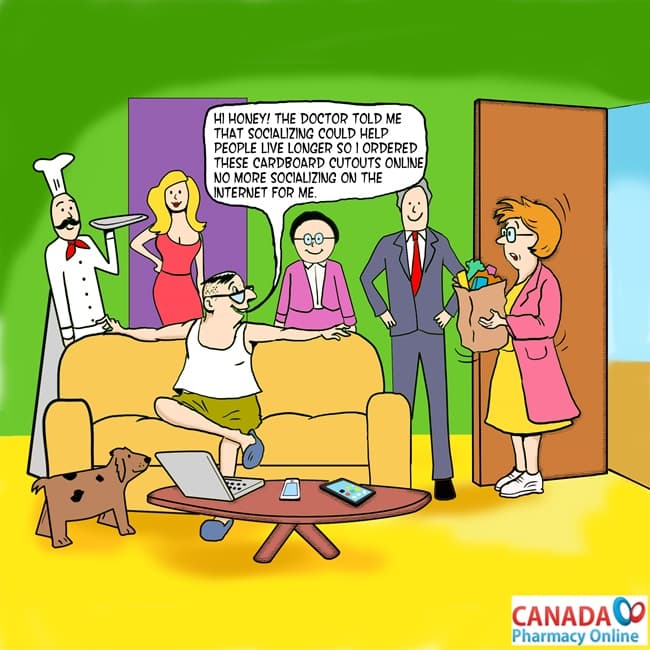 Edgar was obsessed with social media. Everyday Edgar would spend countless hours on these sites, messaging friends, posting things and just browsing. Even though Edgar had many friends on social media, he had hardly any friends in his daily life. He wasn't interacting with friends or people in his day to day life. It came to a point he would rather sit home all day and use social media than spend time with his own family. His wife Susan even gave a nickname for him, she called him the "King of Social Media".
It wasn't until Edgar's annual doctor's visit, that everything changed. While the doctor was examining Edgar he found out he had high blood pressure. The doctor asked many questions regarding his daily routine. Edgar was brief, mentioning he didn't exercise at all and spends most of his time on social websites. As of a result he didn't have to many friends either. The doctor was very critical of Edgar's lifestyle. He said to Edgar "if you want to live longer it's important to socialize with people and that does not mean sitting in front of your computer to socialize". He also said "exercising daily is most essential". That day while driving home from the doctor's, Edgar had an idea! The next day Edgar's wife Susan had been shopping all day. When she returned home and opened the front door she could not believe her eyes. Edgar was sitting on the couch surrounded by cardboard cutouts of people. He said with a big smile " the doctor told me socializing could help me live longer so I ordered these cardboard cutouts. No more socializing on the internet for me.
Latest post from smithsonianmag.com - Social Contact Helps Beneficial Gut Bacteria Spread
###
We hope you found our cartoon funny. Feel free to grab this code and share the image on your website or blog.