Carrie Borzillo is an award-winning journalist and author of three books. She writes about sex/relationships for Men's Health, DAME, and Canadapharmacy
Squeeze for three seconds. Relax for three seconds. Repeat. This is the method of kegel exercises that most doctors teach women. And, while they do work, there are advances in these methods and new technologies that are helping women strengthen their pelvic floors for more enjoyable sex and for less incontinence.
"As you get older or after childbirth, your pelvic floor weakens and regular kegel exercises can really improve it. I believe in doing them for preventative measures too. These are muscles and like any muscles in your body, it's good for your overall health to exercise them," says gynecologist Dr. Jen Gunter.
It's also good for your sex life. "It can make it more responsive down there, not because you've made those muscles stronger, but because you've developed more awareness of them, right. So your pelvic floor is not typically in your consciousness. When you learn how to tighten those muscles, during sex you might feel it more. Those are the muscles that contract when you have an orgasm, so it is possible that if those muscles are stronger and more robust, then you might have a stronger orgasm," adds Dr. Gunter.
While Dr. Gunter stands by the old-school squeezing methods for kegel exercises, there are a lot of new products on the market today that help women keep up with their kegels. Here are five new ones...
1. Kegel Camp by Sex With Emily ($1.99): Making time to do your kegels isn't always easy to do, so Dr. Morse created an iPhone app to remember to do them daily. Her Kegel Camp app not only features a reminder alert, Dr. Morse serves as your Kegel Camp Counselor and guides you through 20 kegel workouts. Level 1 includes tensing for four seconds and then releasing for four seconds, done in reps of four. By Level 12, you should be able to tense for five seconds, release for two seconds done in nine reps.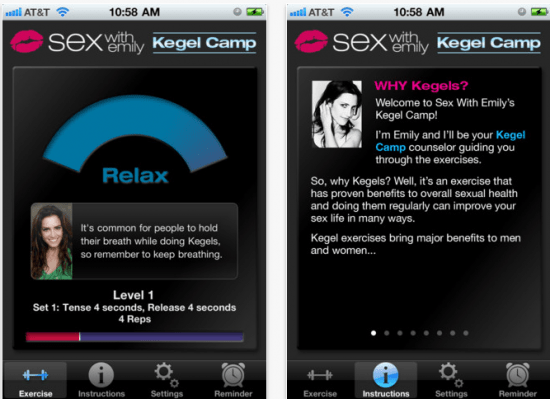 Photo Credit: Courtesy by Sex with Emily
2. Lovelife krush by OhMiBod ($129): This kegel-exercising device is worn inside of the body and is connected through Bluetooth to its companion app, TASL (The Art and Science of Love). It offers voice-guided PC muscle fitness training programs to walk you through how to do the exercise - i.e., when to squeeze and relax and for how long. The dashboard tracks daily activity and even monitors how much control you have of your muscles. The best part is when you reach your training goals, the app unlocks rewards that include special vibration patterns to use for pleasure. It's like a little reward after your workout!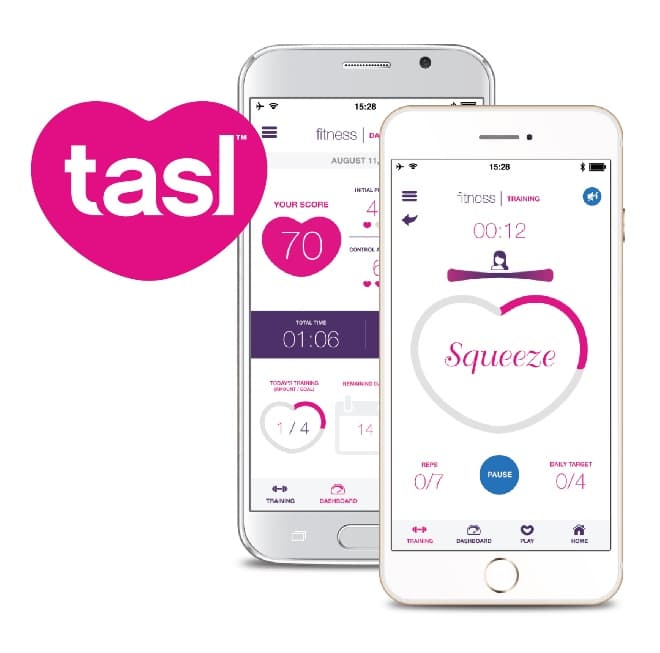 Photo Credit: Courtesy by tasl
3. Yoni Eggs by Chakrubs: Chakrub sells two Yoni Eggs - the Obsidian Egg ($75) and Rose Bud made of Rose Quartz ($65). Yoni is the Sanskrit word for sacred space, representing the vagina. "You insert the egg in your vagina and some people choose to just let the egg what it will. And you just walk around with it in all day and it is moving the muscles inside of your vagina, which is strengthening it, increasing blood circulation, which can improve sexual stimulation as well as your personal lubrication system. Or you can squeeze your kegel muscles with the egg in as another way to exercise it," says Chakrubs founder Vanessa Cuccia.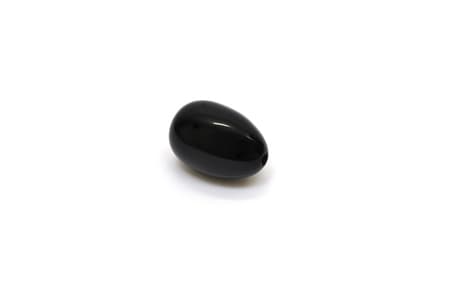 Photo Credit: Courtesy by Chakrubs
4. Candy by IMTOY ($159): This super-soft (it's made of 100% medical grade silicone) kegel ball that measures 33mm in diameter connects to your smart phone or device for professional training courses. The app tracks your progress to help you reach milestones and stay motivated, and can even tell you how much energy you've burned during each exercise. The program starts with the Adaption Stage to help you wake up the pelvic floor muscles in four phases that take 3-15 minutes a day. The Advanced-Cycle Stage incorporates walking, squatting, and climbing along with their regular kegel exercises.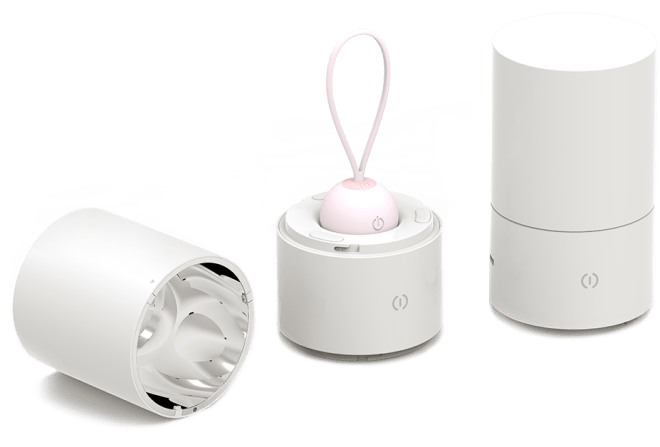 Photo Credit: Courtesy by Candy
5. Intensity by Pour Moi ($199): Sex therapist Dr. Emily Morse, host of the Sex With Emily podcast, calls this devise a total "game-changer" because it does double-duty as a kegel exerciser for pelvic floor strengthening and clitoral and G-spot vibrator for pleasure. The battery-operated Intensity ($199) inflates inside the vagina to place muscle stimulation contacts on the pelvic floor muscles walls. It uses electro-stimulation to contract and release the pelvic floor muscles. It features 10 levels of muscle stimulation and five speeds. "Even my partner could detect a difference," wrote Dr. Morse in her Sex With Emily blog after using this. "Now when I flex my PC [pubococcygeus] muscles during a particularly powerful climax, he has commented that is feels even more pleasurable for him."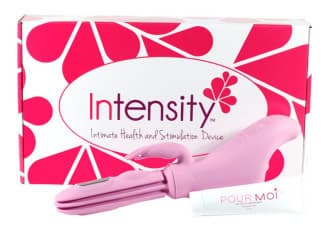 Photo Credit: Courtesy by Pour Moi
For more information:
###
Carrie Borzillo is an award-winning journalist and author of three books. She writes about sex/relationships for Men's Health, DAME, and Sexpert.com. www.carrieborzillo.com. Twitter: @CarrieABorzillo