Esther Schindler's been writing about computers since it was oh-so-cool to have a 2400 baud modem. She has never lost the sense of joy for the many ways in which technology can improve the quality of life.
It's that time of year again: Your grip on your New Year's resolutions has become precarious. You still want to fulfill your goal of "Get healthier in 2016" – starting with sleeping better – but it's become difficult to comply with best-intentions. Perhaps technology can help you get back on the straight-and-narrow.
SEE ALSO: How To Recreate Spa Sleep Treatments at Home
If you aren't sleeping well, you don't necessarily have to invest in an expensive mattress. Quite a few companies are making products to help you measure your sleep patterns and to give personal advice about how to get a good night's rest. Here's six we saw at the recent Consumer Electronics Show in Las Vegas.
The sleep tracker Beddit promises to makes any bed a smart bed. You place an ultra-thin sensor under the bed sheet, and pair the sensor with an mobile app (for iPhone, Apple Watch, or Android device). You don't have to wear anything unusual, such as a strap around your chest. In fact, you do nothing different: just go to sleep.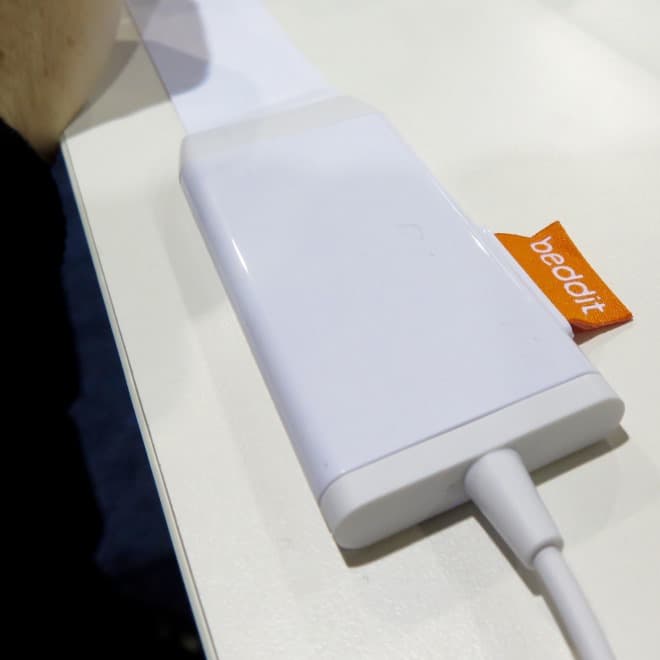 Photo Credit: by Esther S
The product uses ballistocardiography, through an ultra-thin force-sensing strip, to measure nighttime activity without any wearable sensors.
While you sleep (or try to), Beddit tracks your heart rate, respiration, movement, snoring, and sleep cycles. In the morning, you can look at its personalized Sleep Score, which measures your overall sleep quality; the app tells you about your sleep patterns and how to improve them. Its alarm wakes you at the optimal time, so you feel refreshed and energized.
The company isn't just making up those measurements. Beddit says that its data accuracy and patented sleep-tracking methodology have been clinically validated and published in peer-reviewed scientific articles.
There are two versions: "Classic" ($119US) and "Smart" ($149.95US); the more expensive version has additional measurement features. They can be found at Amazon, Apple Stores, Apple.com, Brookstone, Bed Bath and Beyond, or at Beddit.com.
Sevenhugs also promises to wake you up at the right time in the sleep cycle, though it is tuned to the whole family more than a single individual. Its tiny minihug sensor is placed on one corner of the bed, under the mattress cover. In addition to sleep tracking, SevenHugs' hugOne (which starts at $179US) is closely tied to home automation systems, including monitoring its temperature, humidity and air quality. For instance, the company promises, if you connect a hugOne to your smart light bulbs, it will help you fall asleep naturally with sunset light and wake up refreshed with sunrise light; and it automatically adjust your home to your preferred night-time temperature when it senses that everyone is in bed.
FitSleep also uses a sensor to measure body movement, breathing, body movement, and sleep stages. Instead of a strip under the mattress cover, you can put the sensor under a pillow or under the mattress. The company hasn't advertised its pricing or availability, however.
Those companies make a big deal about sensing your sleep patterns without the need for you to wear anything special. If that's not an issue, and you want a whole-body solution, you might like the Hexoskin smart clothing system. The full line incorporates several features for fitness metrics. One area of specialty is sleep monitoring, since exercise success is affected by how well rested you are. The Hexoskin shirt tracks total sleep time, sleep efficiency, heart rate, breathing rate, sleep position changes, and minute ventilation, and it compares it to your overall fitness (such as your heart's "resting rate"). It uses Bluetooth Smart and is compatible with Strava and other popular health and fitness tracking apps. Hexoskin expects to ship this new clothing in April, with pre-order pricing starting at $299US.
The Sleepion takes a just-slightly-different approach to changing your sleeping environment. It uses sound, light, and aroma to help you make a transition into a comfortable, deep sleep. For example, the speaker resonates soft, natural sounds to resemble a prenatal environment. Natural oils (such as cedar and lavender) are emitted with ceramic aroma stones "to create an earthly environment." Also: It's cool-looking. The company expects to ship the product in March 2016, with a Kickstarter supporter price of $170.
If your problem is more about getting up in the morning instead of falling asleep, you might be interested in the Holi Bonjour voice-control alarm clock, which integrates with other home automation products like Nest and anticipates events. For instance, the alarm will go off early if there's a massive traffic jam on the way to your office or if the calendar shows that a way-too-early conference call was canceled. This won't wake you up tomorrow, though; it's going on Kickstarter in April 2016, and won't ship until December. Pricing has not been announced.
Note that these gadgets don't necessarily do anything to improve your sleep directly; at best, they offer advice. But even if the tools don't improve your slumber, they'll give you data that you can share with your doctor, and thus both of you will be able to make better treatment decisions.
Ordinarily, it might not be a good thing to buy something that makes you yawn. In this case, perhaps it's a sign of health!
###