Robert Salanitro specialized in children's book and illustrations with humors; he worked as a freelance cartoonist for reputable Canadian online pharmacies.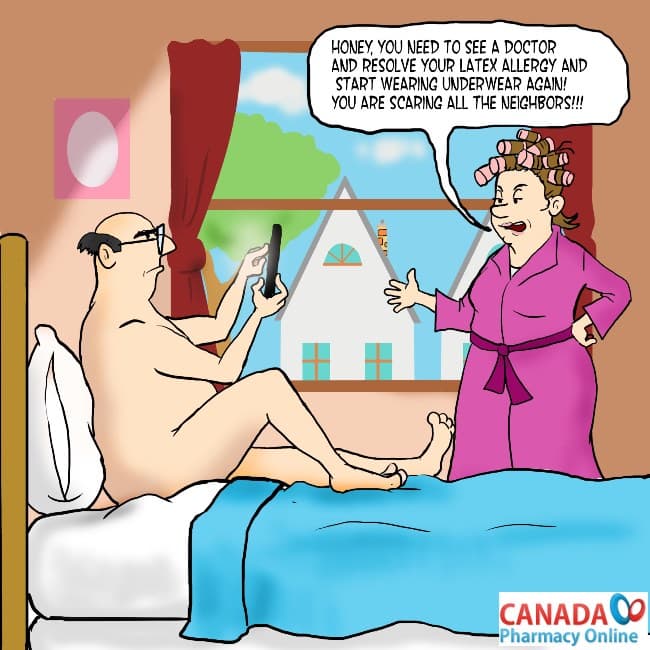 Elmer has been noticing that every time he wears underwear he is developing a rash. The rash is becoming more intense and uncomfortable. One day he decides to go to his local pharmacy and ask for a cream to help his issue. The pharmacist explains to him, he may be developing a rare allergic reaction to latex which is found in most underwear. The pharmacist suggests he makes an appointment with his doctor to take a test to see if he is allergic to latex.
However, Elmer likes to procrastinate things and does not make an appointment immediately. Days go by and still Elmer's rash continues. So one day Elmer has an idea, he decides not to wear underwear and walk around his house naked as a jaybird. This isn't the most pleasant thing, especially for his wife. He wakes up every morning, has his breakfast, watches TV and does his house chores, all in the nude. It wasn't until one day Elmer is just about to get out of bed when his wife enters the bedroom. She says "Honey, you need to see a doctor and resolve your latex allergy and start wearing underwear again! You are scaring all the neighbors!! Elmer just smiles and said" lucky for them".
###
We hope you found our cartoon funny. Feel free to grab this code and share the image on your website or blog.