Tonya Martin is a professional publisher and owner of a small trade book publishing house from New Westminster, BC. Currently she worked as a freelance writer for Canadian dispensing pharmacy.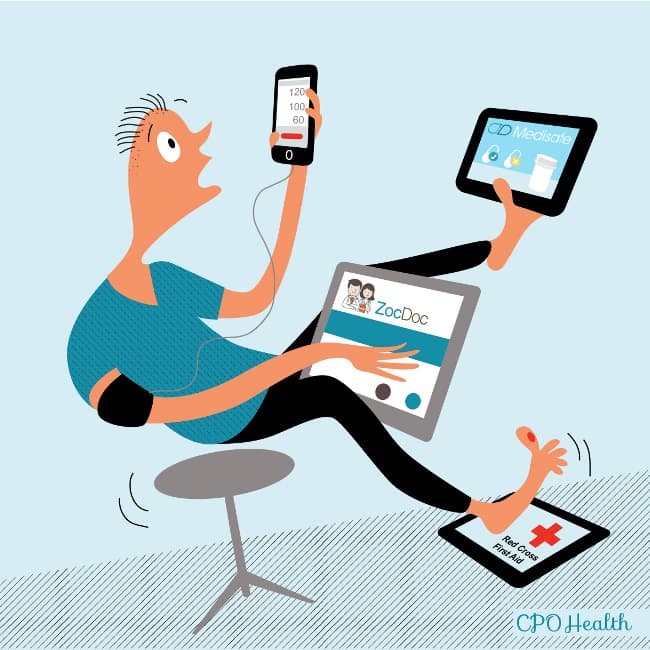 These days, we can do almost
anything
with our phones. We can remotely adjust the lighting, unlock the doors, and raise or lower the temperature in our homes. We can monitor our children while they are with the babysitter. We can monitor our pets while they are home alone. We can deposit a cheque or transfer funds.
We can even monitor our bodies, including our heart rate, blood pressure, how many steps we've taken relative to our heart rate, and much more. But how safe is it to rely on the information these apps provide? And are medical apps poised to cut down on our doctor visits?
According to the Food and Drug Administration(FDA), in 2015 there are approximately 500 million medical app users worldwide. These people are not only patients, but medical professionals and students. So it's much more than just a trend, it's a part of our smartphone culture and it's definitely a part of our lives. Even the FDA is all for the development of safe apps that can help people get and stay healthy. But there are apps that could potentially cause harm if misused. These apps are identified by the FDA and will be reviewed while they are still in development.
What is a medical app?
Let's start from the beginning: A medical app is a program that runs on your phone or tablet. It can also be something you use in conjunction with or attaches to a phone or mobile device via a USB or otherwise, like a Fitbit Activity Tracker, which can be used to monitor physical activity and fitness among other things.
SEE ALSO: STD-Related Mobile Apps Are On The Rise
What kinds of medical apps are available?
Most medical apps are available for download to your Apple or Android device. So if you want to get fit, have an ailment, or think you might have an ailment, you can find a suitable app. There are glucose meters for diabetic patients. There are apps for nursing mothers to help keep track of feedings, baby's medical information, and growth charts. There are apps to help you to find a doctor, remind you to take your medication, and to make sure you're eating right. You can even download an app that will let you chat with a doctor about your current or past condition, which might be a great thing for bedridden patients. You name, there's an app for it.
Are there free medical apps available?
Yes! Just like any other apps out there, you can find easy-to-use apps that can be extremely useful and best-suited to your needs. Here are our top picks:
1) Red Cross First Aid: This wonderful app provides safety tips, first-aid scenarios, tips for natural disasters (we kid you not). Don't have cell service? No problem. The Red Cross First Aid app is preloaded so it's always with you…as long as you have your phone (and it's charged, of course). Available for Apple or Android.
2) Medisafe: This app alerts you to when to take your prescriptions, and what dosage. Medisafe will even notify a friend or family member if you miss a dose. Available for Apple or Android.
3) MyChart: MyChart is a convenient app that stores all of your medical information and allows you to access it directly from you phone. We're talking vaccinations, medical visits, prescriptions, betc. It's a great app to have with you while travelling. Available of Apple or Android.
4) Zocdoc: Need to find a doctor in your neighbourhood? Just type in the appropriate information, and let Zocdoc do the rest. You can have a look at reviews of potential doctors and even book an online appointment. Good stuff. Available for Apple or Android.
5) GlassesOff: How about some fitness for your eyeballs? Not only can GlassesOff assess your vision via a simple and short test, it also uses exercises to help train your eyes, which may ultimately help to train your vision. Available for Apple or Android.
6) Omnio: Feel the need to self-diagnose? Then Omnio app is for you. This app will let you type in your symptoms and give you potential reasons for them. Omnio is also great for making sure that the medications you're taking aren't interacting with each other in a way that will actually make you sick. Need the most up-to-date medical news? Omnio has it. Available for Apple or Android.
7) Medscape: The Medscape app provides you with in-depth information about your prescription, including photos of various medications. You can even look up surgical procedures and find doctors. This app is great for general medical reference and for those in the medical field. Available for Apple or Android.
8) UpToDate: If you are a medical professional, studying to be one, or thinking about entering the world of medicine, UpToDate is a pretty awesome app. You can access medical news, check out videos on various medical procedures, track medical achievements, and more. Available for Apple or Android.
Are these medical apps safe?
With medical apps, as with most things, you're going to probably want to err on the side of common sense. Yes, a free chat with an app doctor could be useful for some things. But when it comes to an ultimate diagnosis, you're going to want to make an appointment with a doctor in-person. Even though you may have an app that reminds you to take a prescription or to regularly the check you blood sugar levels, you'll still need to see a doctor for that initial prescription, or if your blood sugar levels seem off. There's an old saying about most things being okay when used wisely, and in moderation. Now that we think about it…there's probably an app for old sayings, too!
###
We hope you found our cartoon funny. Feel free to grab this code and share the image on your website or blog.