Robert Salanitro specialized in children's book and illustrations with humors; he worked as a freelance cartoonist for Canada Pharmacy Online.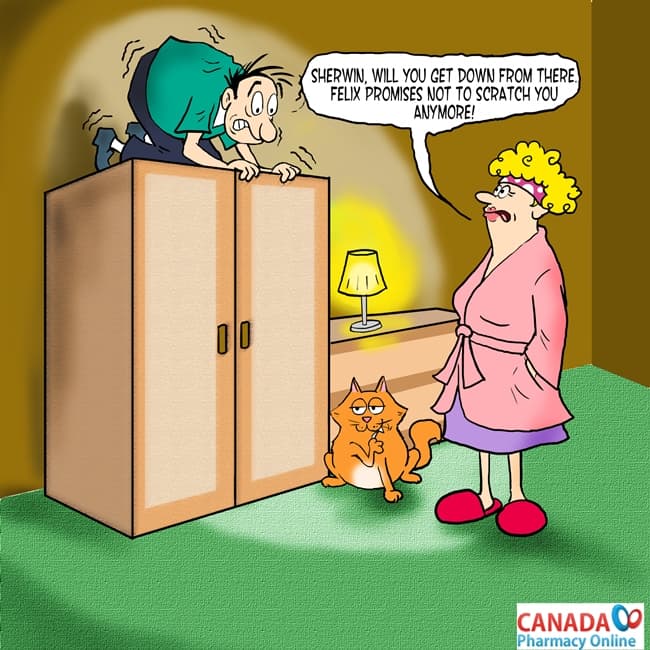 Sherwin and Marge, a semi-retired couple, were looking to adopt a cat. Marge loved cats and when they visited a nearby animal shelter, she fell in love with a four-year old cat named "Felix". They adopted him immediately and brought him home to live with them.
But after living with Felix for a couple weeks , Sherwin noticed that he was getting sick quite often, with fever, swollen lymph nodes and fatigue. This was starting to worry him. He took care of himself, eating healthy foods and exercised daily but still he was getting sick. Without hesitation Sherwin scheduled an appointment with his doctor. After Sherwin's visit with the doctor and an extensive amount of tests, he finally found out he was suffering from an illness brought on by cats called, Cat-scratch disease (CSD). Sherwin learned about the disease, which is a common and usually benign infectious disease caused by the bacterium Bartonella henselae.
If a person is scratched by contaminated claws, they're at risk of getting the disease. Sherwin, terribly afraid, decided to stay away from their cat, Felix, afraid of being scratched by him. It wasn't until one night as Marge walked in her bedroom she found her husband on top of their dresser closet, shaking like a leaf. She said to her husband, "Sherwin, will you get down from there? Felix promises not to scratch you anymore". Felix with sad eyes, purred and scratched himself as he looked at Sherwin.
###
We hope you found our cartoon funny. Feel free to grab this code and share the image on your website or blog.