Kristina Campbell is a freelance science writer specializing in the gut microbiota and digestive health.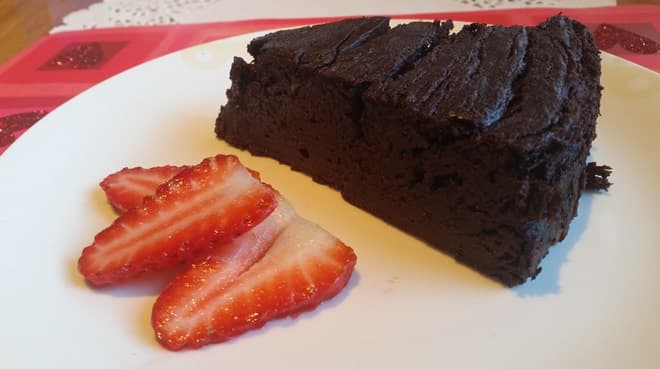 Photo Credit: by Kristina C
If your sweetheart is one of the 10-15% of people who live with irritable bowel syndrome (IBS), finding a digestion-friendly Valentine's Day treat could prove complicated. The standard box of milk chocolates just won't cut it, gut-wise.
SEE ALSO: Fiber's Trusty Sidekicks
Many people with IBS find relief from their symptoms on a low-FODMAP diet. FODMAP is an acronym for "fermentable oligosaccharides, disaccharides, monosaccharides, and polyols"—these are a poorly absorbed subset of carbohydrates, found in a variety of common foods like milk and wheat. Scientific studies show the low-FODMAP diet reduces IBS symptoms, including abdominal pain, gas, bloating, and even tiredness. The diet may work by changing the gut microbiome in a way that dampens inflammation.
The ingredients in this rich chocolate torte all get the 'green light' on the low-FODMAP diet. Your sweetheart won't mind indulging—on Valentine's Day or any other day.
Low-FODMAP Chocolate Torte
INGREDIENTS:
• 16 ounces unsweetened chocolate baking squares
• 2 cups butter
• 1 cup whipping cream
• 1 cup sugar
• 9 eggs
• 4 teaspoons vanilla
INSTRUCTIONS:
Grease a springform pan and place it on a cookie sheet. Preheat the oven to 350 degrees F.
In a large saucepan, melt the chocolate over low heat, stirring constantly. Add the butter, whipping cream, and sugar, stirring until all ingredients are melted. Remove from heat.
In a separate bowl, whisk the eggs with the vanilla. Add a small amount of the chocolate mixture to the egg mixture and stir.
Pour the egg mixture into the chocolate mixture and mix well. Pour it into the springform pan. Bake for about 50 minutes, or until the torte appears evenly puffed.
Drizzle with additional melted dark chocolate or dust with icing sugar if desired.
Option: For a flavor variation, try substituting 2 teaspoons almond extract for the vanilla extract.
Note: This torte is heavy on chocolate flavor and light on sweetness. For a sweeter torte, add ½ cup extra sugar when melting the chocolate.
###