Robert Salanitro specialized in children's book and illustrations with humors; he worked as a freelance cartoonist for canadianpharmacy.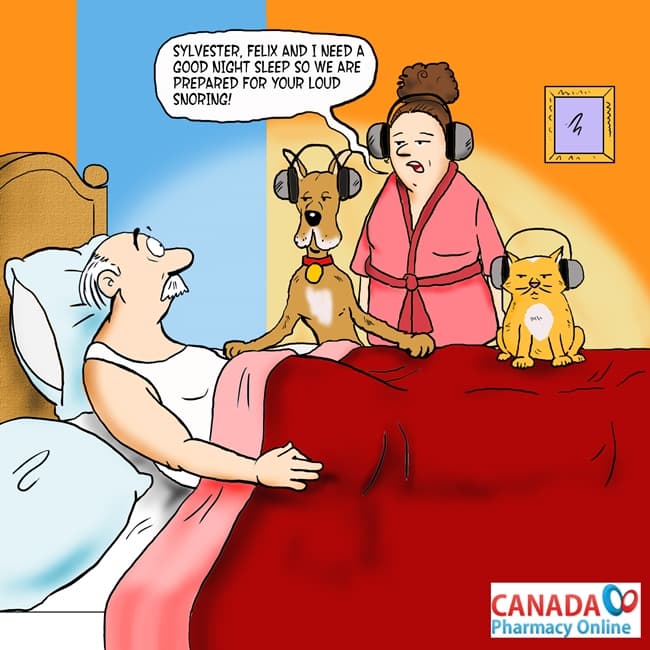 Marty is known for his very loud snoring at night. For years his wife Matilda has been suffering sleepless nights along with her cat Sylvester and her dog Felix. Sometimes they stay up all through the night leaving them exhausted and tired the next day. Marty's snoring is so loud sometimes his wife and pets have to sleep downstairs in the living room. And still Marty's snoring could be heard. It wasn't until Matilda came across an article, "The world's best acoustic soundproof earmuffs, blocks out any loud noise". Matilda quickly ordered online, one for herself and two for her pets, Sylvester and Felix. Within a week Matilda and her pets received their acoustic soundproof earmuffs. That night Matilda and her pets marched in the bedroom where Marty was laying down, ready for sleep. Matilda said" Sylvester, Felix and I need a good night sleep, so we are prepared for your loud snoring".
That night Marty realized how much it was effecting his wife and pet's sleep. He immediately made an appointment with his doctor. As a result from his checkup, Marty had some health risk factors like obesity and high blood pressure that needed to be monitored.
Later on that year Marty was able to control his blood pressure and loose weight. Marty's snoring eventually got much less, soon his wife and pets no longer needed to wear acoustic soundproof earmuffs.
###
We hope you found our cartoon funny. Feel free to grab this code and share the image on your website or blog.