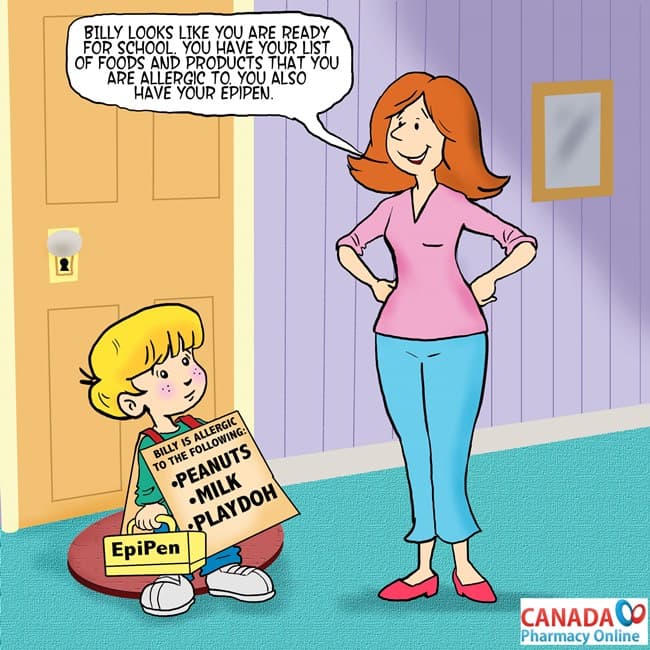 Robert Salanitro specialized in children's book and illustrations with humors; he worked as a freelance cartoonist for Canada Pharmacy Online.
It's back-to-school time and parents not only have to worry about their children's schedules, school supplies and what clothes to wear but what foods they are eating. Also watch if they are allergic to any of these foods. Since parents are not with their children at school, this can be stressful for them, making sure they are not eating foods they shouldn't eat.
SEE ALSO: How To Make Your Kids Smarter With Their Smartphones
Mrs. Gable is a concerned parent who is facing this dilemma. Ever since her son Billy developed allergies for certain foods and products she constantly had to monitor his food intake. Billy being a little mischievous sometimes likes to eat things he is not supposed to. It wasn't until one day Billy ate a food at school which he was allergic to. It was a bag of peanuts, which made him very sick with an allergic reaction. From that moment, Mrs. Gable promised to watch carefully what Billy ate. So Mrs. Gable took all precautionary measures to make sure this didn't happen again at school. The week, before school started for Billy, she informed the principle, all his teacher's including the teacher assistants, letting them know the foods and products he is allergic to. She also contacted all of Billy's friends and their parents letting them know of his allergies. Mrs. Gable had one more idea for protecting her son from any allergy intake. The first day Billy started school, she made him wear a fully body paper list. It included all of Billy's allergies, from head to toe. She also made him carry a first aid kit with EpiPen inside just in case of any allergic reaction emergencies. Before her son left for school, she said to him: "Billy, it looks like you are ready for school. You have your list of foods and products that you are allergic to. You also have your EpiPen". She also said: "Don' t forget your cell phone, call me right away if you feel anything". Now Billy was ready for school!
###
We hope you found our cartoon funny. Feel free to grab this code and share the image on your website or blog.