Carrie Borzillo is an award-winning journalist and author of three books. She writes about sex/relationships for Men's Health, DAME, and Canada Pharmacy Online.
A recent study showed that 79% of women would rather get a good night's sleep than have sex, according to the Better Sleep Council. There's a good reason for that. A good night's sleep is the key to good physical, emotional, mental, and even spiritual health. It affects our performance at work, our interactions with people, our mood, and our ability to enjoy our lives.
According to the Centers for Disease Control and Prevention, 1 in 3 adults don't get enough sleep on a regular basis. The most common factors are stress, anxiety, poor time management, health issues, nighttime distractions (i.e., babies crying, cats meowing), and lifestyle choices (i.e., the hours you keep and the food, alcohol, and caffeine you consume).
Experts have myriad of suggestions to improve your sleep, such as establishing a routine where you wake up, go to bed, eat, and workout at the same time each day; not eating right before sleeping; turning off your electronics before bed, and even having a great orgasm as the last thing you do at night.
But, if those tried-and-true remedies don't work, the spa industry is coming to your rescue with a more luxurious and fun way to catch some ZZZs. Here are 5 Spa Treatments for Sleep worth buying a plane ticket for. But, if a travel isn't in the cards for you now, we'll show you how to recreate the key elements of these treatments in the comfort of your own home.
1. "Sleep Therapy Massage" at Natural Body Spa and Shop: This chain of 14 spas in the South of the U.S. caters to what they call the "sleep deprivation epidemic" with a rest-facilitating massage using valerian and hops oil. The massage gives extra attention to the feet, which is often considered the key to relaxation.
How To Recreate This at Home: You can try this at home by asking your significant other to give you a foot massage or, if they have time, a full body massage. If you are home alone, try using a personal massager on the pressure points of your feet before bed.
2. "Tranquil Sleep Treatment" at Canyon Ranch Resort & Spa in Tucson, Arizona: The spa therapist uses serene sounds and sleep-inducing aromas combined with breathing techniques and a variety of massage styles to transform tension into tranquility. Extra attention is given to your feet and head to create a state of ease, allowing body and mind to rest soundly.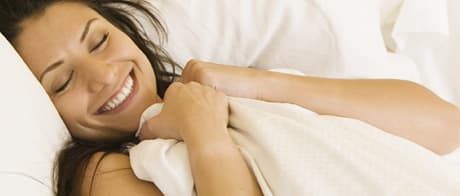 Photo courtesy of Canyon Ranch Resort & Spa
How To Recreate This at Home: Invest in a cheap sound/sleep machine or download a free sleep sounds or meditation music app for your phone to fill your bedroom with serene sounds. Light incense or spray a calming essential oil, such as chamomile or lavender, on your pillow before bed. Don't light candles before bed! Nothing will wake you up like a house fire! As for the breathing techniques, sitting or laying in a comfortable position, take 10 long, slow, and deep breathes with your eyes closed just before your head hits the pillow.
3. "Lavender Dreams" at The Woodhouse Day Spa: The Woodhouse Day Spas, which has more than 40 spas in the U.S., has a separate Sleep Treatments spa menu with four services for the sleep-deprived. Lavender Dreams is a 50-minute massage that uses wild crafted lavender, sleep-inducing herbs, purposeful massage techniques, and relaxing meditation to help guests decompress.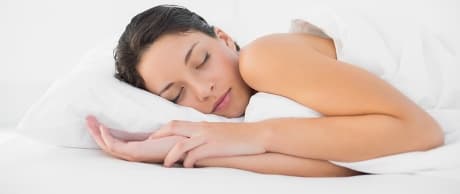 Photo courtesy of The Woodhouse Day Spas
How To Recreate This at Home: If a full massage before bed is not an option, use the herbs and meditation part of this treatment. Go to your local health food store and stock up on some sleep-inducing teas or natural herbs or supplements, such as valerian root, chamomile, or melatonin. Also, meditate in your bedroom for 5-10 minutes before going to bed to quiet your mind and calm your soul.
4. "Blissful Night" at The Woodhouse Day Spas: The sound of rain is often a peaceful sound that helps people sleep, which is why it's included in every sound or sleep machine. There are even apps with just rain sounds, such as the "Rain Rain Sleep Sounds" app. Woodhouse recreates this with a treatment that begins with a Vichy shower (the client lays on a massage table with the shower heads raining down over their body), followed by a back, neck, and head massage. They use aromatherapy oils in the Vichy shower to help the guest further relax.
Here's a look at the Woodhouse Day Spa's Blissful Night...
How To Recreate This at Home: If you want to spend a few extra bucks, swap out your regular showerhead or a larger rain showerhead. The more water coming down on you, the more relaxing it is. If not, then create the aromatherapy shower by simply turning on your shower as hot as you can handle, sprinkle several drops of an essential oil in the shower (lavender and chamomile are most calming), close the shower door or curtain to let it steam up, and then hop in the shower letting the water cascade over your head either standing in the shower or sitting comfortably on the shower floor. Take deep, long breaths to inhale the calming aromatherapy. If you can't smell the aromatherapy enough, sprinkle more. Head straight to bed after you towel off.
5. "Slumber Massage" at Park Hyatt Beaver Creek's Allegria Spa in Beaver Creek, Colorado: This massage attacks sleep deprivation with aromatherapy, hot stones, sound, and touch. Relaxing lavender is spritzed the sheets, in warm compresses, and in massage oil (also infused with rose). Hot stones are strategically placed on chakras and the parasympathetic system is activated during Swedish massage. But, most uniquely, Allegria partnered with the Center for Neuroacoustic Research in California to create sound frequency patterns that lull guests into a Delta brainwave state for deep rest.
How To Recreate This at Home: Buy aromatherapy oil in a spray and spritz your pillow and sheets before turning in. Experiment with various sleep and sound machines to discover which sound truly puts you under - it might be rain, wind, the surf, Tibetan singing bowls, or something surprising like the sound of frogs that reminds you of camping as a kid. You can buy a lavender-scented compress for your head or a lavender-filled eye mask online. To create a compress at home, simply take a small face cloth, run it under hot, hot water, and spritz lavender essential oil on it. Lie down with your eyes closed and place the warm lavender compress on your forehead until it goes cold.
###