Robert Salanitro specialized in children's book and illustrations with humors; he worked as a freelance cartoonist for Online Pharmacy Canada.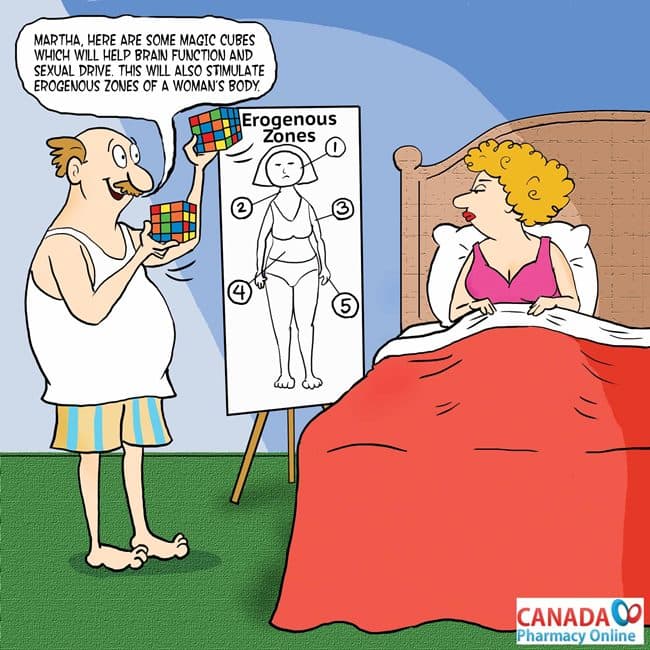 Wesley has been trying to think of ways to spice up his marriage in the bedroom for quite sometime. Wesley and his wife Martha have been married for almost 25 years.
After having three children and going through life's ups and downs things have not been the same intimately between him and his wife. So Wesley sat down and researched ways to become intimate between married couples. After countless research on the Internet, Wesley learned how games like magic cubes can help brain function and sexual drive. He also learned how this could help stimulate the erogenous zone of a woman's body.
So one night Wesley planned a romantic night for him and his wife. As Martha got ready for bed, Wesley explained to his wife how things have not been the same romantically between him and his wife. He also explained how he has been researching on how to improve the intimacy between them. To Martha's surprise, Wesley took out a pair of magic cubes. He said to his wife: "Martha, here are some magic cubes which help brain function and sexual drive. This will also stimulate the erogenous zones of a woman's body. Martha was hesitant at first, but after a few magic cube games and learning the erogenous zones of the woman's body she would feel like a new woman. The next day while getting ready for bed, Martha turned to her husband and said "Ready for another magic cube game. Wesley replied: "I always carry a pair next to me before going to bed". Martha replied, "Let's get this game started!"
###
We hope you found our cartoon funny. Feel free to grab this code and share the image on your website or blog.