Robert Salanitro is an American cartoonist who is known for witty and funny cartoons. Robert writes and illustrates the weekly cartoons for online Canadian pharmacy.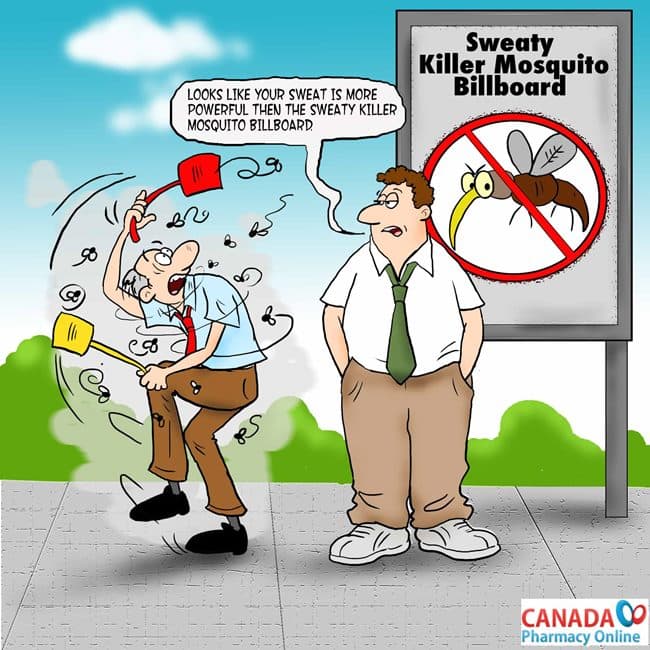 Ever since the Zika virus has been spreading, medical researchers have been trying to speed development of a Zika vaccine. Finding a way of dealing with the Zika virus, recently a market agency has developed a billboard that attracts and kills mosquitoes. It was placed on city streets.
It wasn't until one day 2 men, Marty and Ben were returning home from a long hot summer day of work. They were kind of tired and sweaty from working all day. As it happened they waited at a bus stop which had one of those billboards that kill mosquitoes. While waiting Marty noticed some mosquitoes flying around him. Still waiting for the bus, Marty noticed more and more mosquitoes surrounding and buzzing around him. He started feeling more and more itchy. Then all of a sudden hundreds of mosquitoes surrounded Marty ready to sting him. It was like an army ready to attack. Since Marty was fearful of Zika virus, he always carried mosquito repellent and fly swatters. Without hesitation Marty took out his fly swatters and started smacking those mosquitoes left and right. It was an all out war between Marty and mosquitoes. Then Marty's friend Ben turned to him and said "Looks like your sweat is more powerful then the sweaty killer mosquito billboard."
###
We hope you found our cartoon funny. Feel free to grab this code and share the image on your website or blog.