Carrie Borzillo is an award-winning journalist and author of three books. She writes about sex/relationships for Men's Health, DAME, and Canadian pharmacies.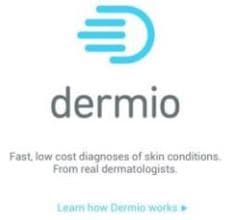 Courtesy by Dermio.com
80% of all Internet users have searched online for info about their symptoms, according to a recent survey. Nearly 50% of us use our phones to send or receive a "sext." 50% of all people will have a sexually transmitted infection or sexually transmitted disease at some point in their lifetime.
Combine these stats and you have the perfect breeding ground for the niche market of STD-related apps that speak to people not afraid to send a dick pic, but who are afraid to walk into a doctor's office to get that dreaded STD test.
Two such apps, Dermio and STD Triage, allow users to upload photos and/or video of their rash, bump, or other skin condition and get diagnosed by a dermatologist within hours. Other apps, such as Healthvana, provide a faster and more private way to get STD results after taking the test at a brick-and-mortar clinic. And, then there's the growing number of dating apps for people with STDs, such as Positive Singles, Hope, and STDmatch.net.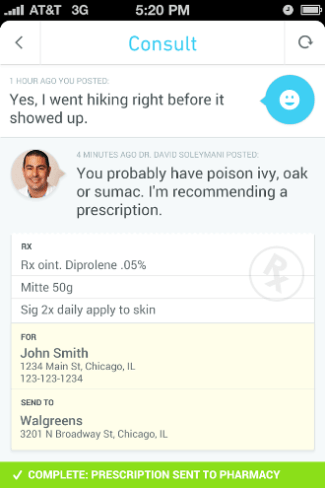 Courtesy by Dermio.com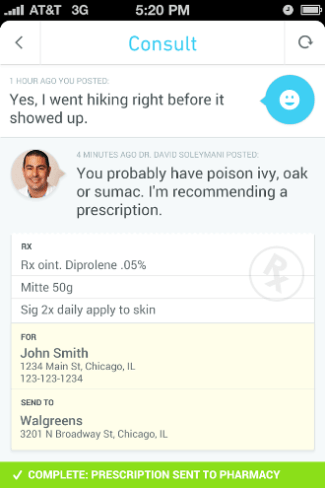 Courtesy by Dermio.com
"STIs go unchecked far too often. People are being reactive not proactive. I created this app because while you'd think it would be common sense to see a doctor if you have a bump, lesion, or rash, there's an alarmingly high number of people who are too afraid, or maybe ashamed or in denial, to see treatment when they should. This app makes it easier for them," says dermatologist David Soleymani, M.D./FAAD, founder of Dermio Dermatology in Munster, Indiana and founder the app Dermio.
Dermio launched about a year ago and has conducted 500 consultations on the app so far. While the app is free, the consultation is $40. People can upload photos and/or video of their skin conditions with a brief description of their issue and get a diagnosis from a licensed dermatologist within 24 hours, but often under five hours. If a diagnosis is positive for a disease or condition, the doctor can call in a prescription to the pharmacy of patient's choice.
Courtesy by Dermio.com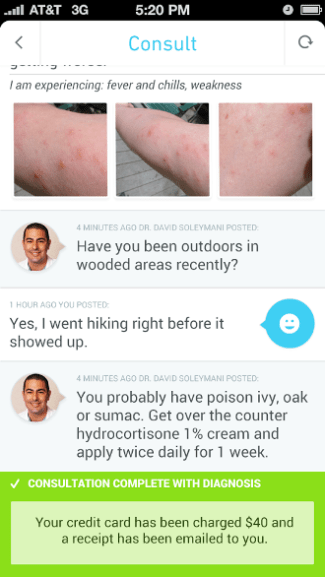 Courtesy by Dermio.com
Keep in mind that dermatologists can only diagnose the types of STDs that present on the skin, such as herpes and genital warts. Of course, it's not just for STDs. It can diagnose most skin conditions, including acne, rashes, and poison ivy.
STD Triage is another "ask a dermatologist" type of app. But, unlike Dermio it doesn't have the ability to call in a prescription. Users can also upload photos of their condition and fill out a basic intake form (i.e., gender, age, how long they've had the symptoms, and city/state). Within hours, a dermatologist uploads the "Case Details" with a possible diagnosis and typical treatment plan. The "Clinics" page provides a map of health centers nearby for the patient to visit. It also has a "Skin Guide" with general info on STDs and STIs.
"These apps are pretty amazing and it's really the future of medicine. More doctors, including myself, are dong tele-medicine now. I recently started seeing some patients via Skype. We're in such a highly specialized world of medicine now that for someone with a specialty in an area, it is easy to diagnosis a condition, especially something like Herpes or genital warts, from just a photo," says urologist Brian Steixner, M.D., Director of the Institute for Men's Health in at Jersey Urology Group.
That said, there are still many STDs that require urine and/or blood tests, genital swabbing, or an exam to be diagnosed and for the proper treatment plan. Two such STDs are chlamydia and gonorrhea. Planned Parenthood has a solution for those with who have symptoms but are afraid to go to a clinic or don't have access to a clinic. On their Planned Parenthood Direct app, patients can order at-home test for $120. The kit includes instructions and materials to submit and mail a urine sample to a Planned Parenthood laboratory. Tests kits arrive in discreet packaging in 2-4 business days. Test results arrive in the app in 1-2 days. If the results are positive, they'll send a prescription to the pharmacy of the patient's choice.
Healthvana, on the other hand, is a cloud-based app that gives patients their STD test results within hours of getting tested at a participating medical center. If the patient is positive for a disease, it provides steps of what to do next. Since debuting in summer 2014, they've delivered more than 250,000 test results with more than 80% of patients checking their results within one day. And, they are sharing their good news on dating sites and social media.
This January, Healthvana teamed with Tinder to provide the dating app with free Yelp-like locator for HIV and STD testing centers. They also teamed with the largest HIV/AIDS organization in the world, AIDS Healthcare Foundation, and now leader in using technology to improve a patients experience in getting tested.
"People are telling us that's much better than hearing, 'no news is good news,' after getting tested," says Healthvana CEO Ramin Bastani.
HEALTHVANA from John Natividad on Vimeo.
And, then there are the dating apps for people positive with an STD. Hope's site says, "Gone are the days when you had to quit dating just because you'd been diagnosed with an sexually transmitted disease. Hope is certainly a ray of hope for all those who are under the impression that STDs could mark an end to their love life." The app includes the typical dating app features, such as matchmaking, a "SpeedMatch" swiping option, chatting, Facebook connect, and a proximity search, as well as the ability to exchange virtual gifts.
"This is a great advance in medicine," adds Dr. Steixner. "It's replacing the old, antiquated way of doing things and providing more people with easy access to STD treatment in a more private and faster way."
###