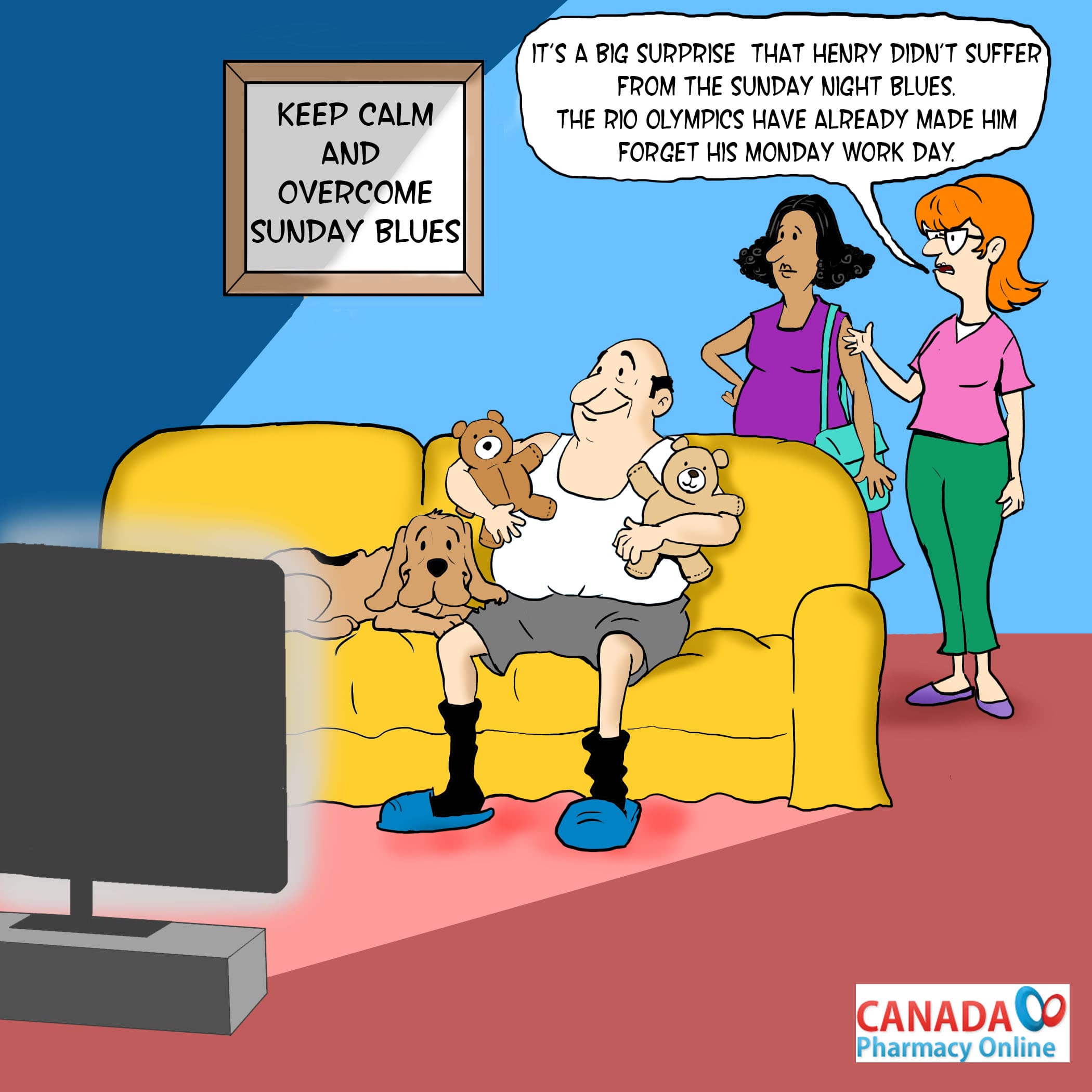 Robert Salanitro specialized in children's book and illustrations with humors; he worked as a freelance cartoonist for Canada Pharmacy Online.
People are suffering from the Sunday Night Blues. It's that anticipation of that dreaded work week that makes people feel sad. The Sunday Night Blues is created when you realize the weekend fun is coming to an end and waiting for five days of pressures at work. Even if you like your job you can still have Sunday Night Blues.
SEE ALSO: Summertime Blues? Check out the top 10 signs of SAD...
For years now Henry is a victim of the Sunday Night Blues. When Sunday rolls around, Henry starts feeling anxious and sad, knowing he needs to answer his work emails, schedule meetings for the week and prepare presentations for his demanding boss. He then reflects on his weekend picnic in the park, fishing with his buddies and dinner with his wife at an Italian restaurant. Thinking about all these fun things, makes him even sadder that the work week is about to begin. It wasn't until Henry came across some expert advice on how to disconnect from your work. He learned that writing things down which are bothering you helps. Also being with friends and watching TV shows makes you disconnect. Until this Sunday, Henry had the perfect idea! He decided to watch the Rio Olympic games on TV. Henry watched the games with his dog Max. Now Henry was no longer having the Sunday Night Blues, instead he was happy, as he sat watching the Olympic games with the biggest smile on his face.
Here are other self-help tips to overcome the Sunday blues:
• Avoid things that make you stress
• Go out and help people
• Schedule Something Fun
• Feed your brain by a healthy breakfast or trying a new recipe
###
We hope you found our cartoon funny. Feel free to grab this code and share the image on your website or blog.