Robert Salanitro specialized in children's book and illustrations with humors; he worked as a freelance cartoonist for Canada Pharmacy Online.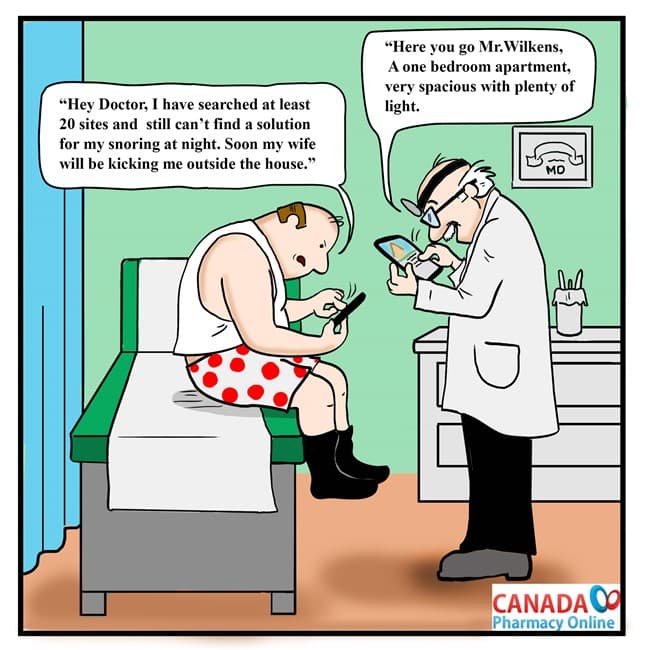 Mr.Wilkens is trying to resolve his snoring problem because he keeps his wife from sleeping all through the night. He has tried many different remedies and read many self-help books. He also spends countless hours researching on the internet. Nights keep passing by with no cure for his snoring and his wife keeps losing more and more sleep.
His wife is becoming extremely upset and makes an ultimatum to her husband. She tells her husband "Fix your snoring problem or move out". He gets nervous about getting kicked out of his house and immediately makes an appointment with his doctor. The day of the doctor visit Mr.Wilkens brings his cell phone into the examining room. Before getting examined, Mr.Wilkens takes out his cell phone and again starts looking on the internet for solving snoring problems.
As the doctor enters the examining room Mr.Wilkens explains "What can I do doctor, my wife is about to kick me out of the house if I don't resolve my snoring problem." Without hesitation the doctor takes out his Ipad and starts looking throught the internet. He pauses and says: "Here you go Mr.Wilkens, one bedroom apartment , very spacious and with plenty of light."
###
We hope you found our cartoon funny. Feel free to grab this code and share the image on your website or blog.