Robert Salanitro specialized in children's book and illustrations with humors; he worked as a freelance cartoonist for certified Canadian pharmacy.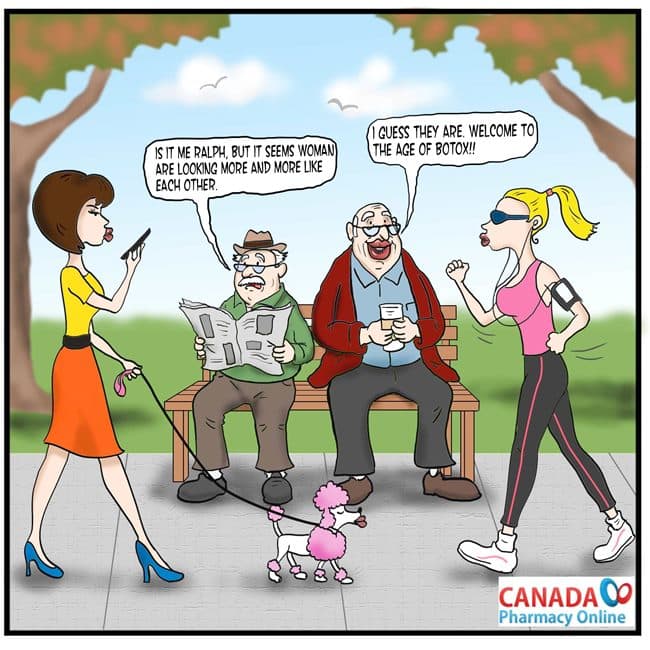 Ralph and Lou are two elderly men, who have been sitting in the same park and the same bench for more than forty years. They enjoy sitting and watching the different people walk by. They have seen so many changes from fashion, different style of clothing to technology, cassette radio and now cell phones.
It wasn't until one day, Ralph and Lou witnessed another change, especially among women. While sitting on the park bench, they saw one particular woman's lips look kind of peculiar, they were a little poofy and swollen. The following week they saw a few more women with poofy and swollen lips. Week after week they kept on seeing more women with poofy lips. Then one afternoon, Ralph came across an advertisement in a magazine that read the following "LOOK and FEEL YOUNGER INSTANTLY WITH BOTOX INJECTIONS". The next day Ralph came to park to meet his friend Lou with big, poofy swollen lips. Lou not realizing his friend Ralph's lips were swollen said "Is it me Ralph, but it seems women are looking more and more younger each day". With a big smile and poofy lips, Ralph said, "I guess they are. Welcome to Age of Botox!!"
SEE MORE ALSO: pharmacy cartoons
###
We hope you found our cartoon funny. Feel free to grab this code and share the image on your website or blog.