Robert Salanitro specialized in children's book and illustrations with humors; he worked as a freelance cartoonist for Canada online pharmacy.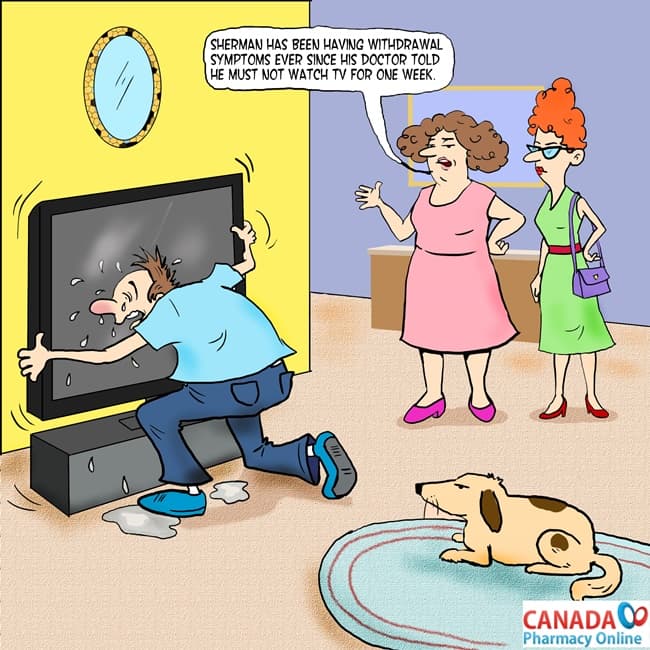 It's Saturday morning, Sherman, a carpet cleaner, is up early to watch TV. Sherman is a TV addict always in front of the tube watching reality shows, talk shows, news, game shows, travel channel, cooking shows, you name the TV show Sherman will watch it. Sherman has been in love with TV ever since he was a little boy, watching such shows as "I Love Lucy" and western movies.
As Sherman got older his habit of watching TV became more of a problem. When Sherman bought his first house with his wife, he made sure there was a TV in every room, including the bathroom. With his obsession with TV it soon affected his relationship with his wife and children. It not only affected his relationship, but his health too. Sherman was not exercising or eating healthy foods. The more he watched TV, the more he saw unhealthy commercials for fast food restaurants. It was until one day Sherman was having chest pains, without hesitation his wife took him to the doctor. The doctor examined Sherman and fortunately it was only indigestion. He asked Sherman many questions about his daily life. Sherman explained to the doctor how much TV he watches. The doctor realized Sherman was addicted to TV and recommended Sherman not watch TV for the whole entire week. This would also help improve Sherman's health, making him not sit in front of the TV. He would have to exercise daily.
That week Sherman's wife Thelma, invited her friend over for lunch. As they headed to kitchen, they saw Sherman crying hysterically and hugging the TV, almost as if he was little baby. Tears filled the living room floor as Sherman shouted to his TV "I CAN'T LIVE WITHOUT YOU, I MISS YOU SO MUCH". Thelma turned to her friend and said, "Oh just ignore him, Sherman has been having withdrawal symptoms ever since the doctor him he could not watch TV for one week".
###
We hope you found our cartoon funny. Feel free to grab this code and share the image on your website or blog.