Robert Salanitro is an American cartoonist who is known for witty and funny cartoons. Robert writes and illustrates the weekly cartoons for Canadian Pharmacy.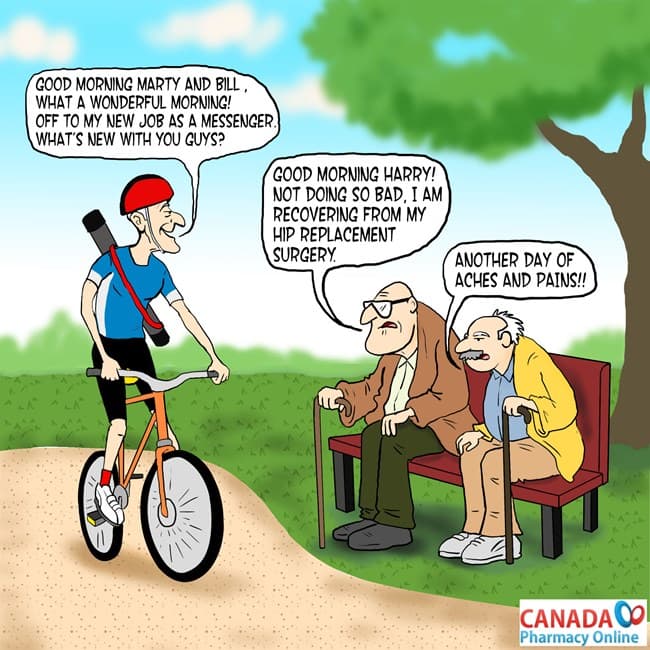 It was going to be the happiest day of Harry's life, he just turned sixty five and was able to retire. He was going to live a relaxing life, just sitting around with friends and doing nothing, he could not wait! However, a year into his retirement Harry was feeling bored. All he would do was sit around with friends as they complained about their aches and pains, what surgery they needed or had done. He would also listen to his friends talking about other friends that passed away suddenly. Since Harry was living a less active life, he started to even gain weight, which was not good for his health.
It wasn't until one day Harry came across an article, that mentioned "Delaying your retirement may cut your risk of death". It also stated "work gives people a sense of purpose and enhances their cognitive and social engagement. It gives them a reason to get out of bed every morning". So without hesitation Harry decided to look for a job. He applied for many different jobs like a cashier in the local hardware store to working in an ice cream parlor. He soon started working on small jobs in his town.
A couple years have passed and Harry had worked on many different jobs since. One day while Harry was working on one of his many jobs, he came across two of his best friends in a park, Marty and Bill. Harry said, "Good morning Marty and Bill, what a wonderful morning! Off to my new job as a messenger. What's new with you guys? Marty replied, "Good morning Harry! Not so bad, I am recovering from my Hip Replacement surgery. Bill replied, "Another day of aches and pains". Harry just smiled and thought to himself, some things never change.
###
We hope you found our cartoon funny. Feel free to grab this code and share the image on your website or blog.