Esther Schindler's been writing about computers since it was oh-so-cool to have a 2400 baud modem. She has never lost the sense of joy for the many ways in which technology can improve the quality of life.
Every year, we make New Year's resolutions. And every year, we break them, usually before the first snowfall. Regularly at the top of the best-intentions list is "I'm going to eat better! and I'm going to lose weight!" But old habits die hard (especially when those habits are delicious), so often we need outside influence to encourage us and to keep us focused.
Sometimes, technology can help. Each of us is responsible for what we put in our mouths, but gadgets can give us useful guidance, metrics to track progress, and a gamification challenge (look at how much Fitbit has accomplished in that regard!) and to give us attaboys. Here's a few "eat better" items shown at the recent Consumer Electronics Show that purport to help you with weight loss or maintenance, diabetes management, or athletic and bodybuilding endeavors.
SEE ALSO: 5 Gadgets to Help You Eat Better
Smart Diet Scale
People have been weighing ingredients and counting calories for decades, but that process quickly gets tedious. You have to look up data in nutrition charts, one at a time, when really what you want is to get dinner on the table already. The Smart Diet Scale still requires you to put your food on a scale – but it makes everything else a lot easier.
The Smart Diet Scale calculates the nutritional value of an entire meal all at once. It transmits that information to a smartphone or tablet using Bluetooth, where a mobile app (for iOS and Android) tracks your food intake. You don't need to look things up, as the app's database stores information on 550,000 food items, 440,000 grocery items, and 106,000 restaurant items.
It's shipping now, and costs $149US.
http://www.smartdietscale.com/
AEGLE Palette
Another smart scale is the AEGLE Palette, which promises to provide real-time measurement of caloric and nutrient intake. In this case, it's about portion control of cooked foods – on your dining table, rather than during kitchen-time. As the company spokesman demonstrated, using a measuring cup is an inaccurate way to gauge how much you're eating. You can stuff a cup full of grated cheese, or have it in a big fluffy pile; how much of that is "a portion"? Thus, it's better to know the weight of the food, not the number of spoonsful.
The AEGLE Palette sits under your ordinary dinner plate – what the company calls "the world's first smart place mat." You identify what you're eating by entering the data into the mobile app, which tells you about learn its nutritional content, such as fat and carbohydrates. For example, you might enter "fresh oranges" into the app, dollop the food onto your plate, and the mobile app records the calories and whatnot. If there's leftovers, it records that, too. Naturally, the smartphone app tracks your progress over time; using that data, it also makes recommendations.
Palette will be priced at $149US, and is expected to be available in April.
Perfect Blend
Perfect Blend helps you create smoothies with the assistance of an interactive recipe app and a smart scale (which also works as a standalone kitchen scale and timer). The goal is to help you plan healthy meals, shop for ingredients, track calories and nutrition, and make consistently delicious smoothies, soups, and dips.
Want a smoothie? Choose a recipe from the mobile app, and adjust portion size if you're extra-hungry (it automatically adjusts ingredients as necessary). Place any blender jar on the Perfect Blend smart scale, and follow the app's onscreen pouring instructions. The app organizes ingredients so that they are added in the right order. The virtual jar fills up in real time as you follow the recipe, and it "dings" when it's ready to blend.
This is not just a set of recipes, as appealing as those may be. The Perfect Blend app suggests nutrition programs and a weekly meal plan based on the goals you set, such as doing a detox or losing weight, and it can automatically build a shopping list.
The company already has similar tools, such as one for creating mixed drinks (for when you fall off the diet wagon, I suppose). Perfect Blend will be available in late spring. The price has not been announced yet, but the company's other products range from $49.99US to $99.99US.
http://store.perfectco.co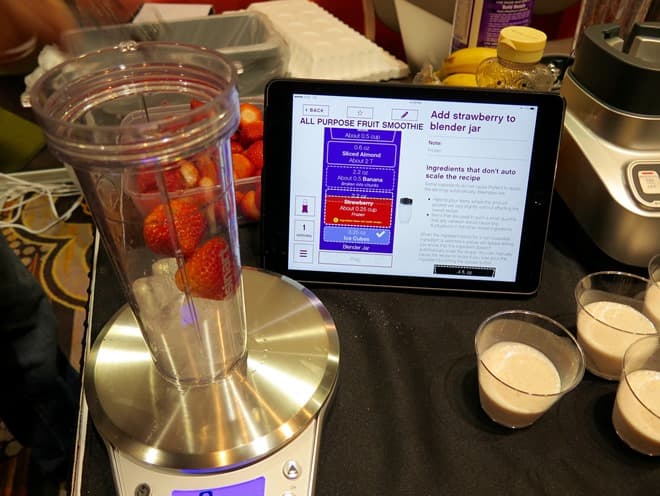 Photo Credit: by Esther S
Life Fuels' Smart Nutrition Bottle
The Smart Nutrition Bottle is a smart water bottle, or "customizable beverage system," if you want to sound more formal. It stores and dispenses the stuff you want to drink, and tracks nutrition through an app that syncs wirelessly with your wearable fitness devices.
At first, this looks like a lumpy water bottle. But the device's "smarts" are in its lid, which houses five interchangeable 1-ounce "fuel pods." Each pod (which holds up to 30 servings) is filled with vitamins, nutritional products, and flavors, so you can choose any of multiple food supplements. The bottle syncs with a smartphone app and can be paired with fitness and activity trackers. That permits it to make suggestions based on your athletic intake or your performance – starting with, "Drink more water!"
The company is working with existing companies to ensure you get the type of products (and the brands) you want, such as daily multivitamins, Vitamin B12, or magnesium. You can't re-fill the pods with your own supplements, but Life Fuel's spokesman said they're actively looking for partners; as a result you might be able to get your own favorite vitamin brand before long.
The fuel pods are tuned for different categories, too, such as protein, sleep aids, and pre- or post-workouts. (Note that if you're trying to sleep better, you may want to consult some of the other gadgets I looked at.)
The Smart Nutrition Bottle will cost $200US, including 10 FuelPods. It's expected to ship this winter on the LifeFuels website.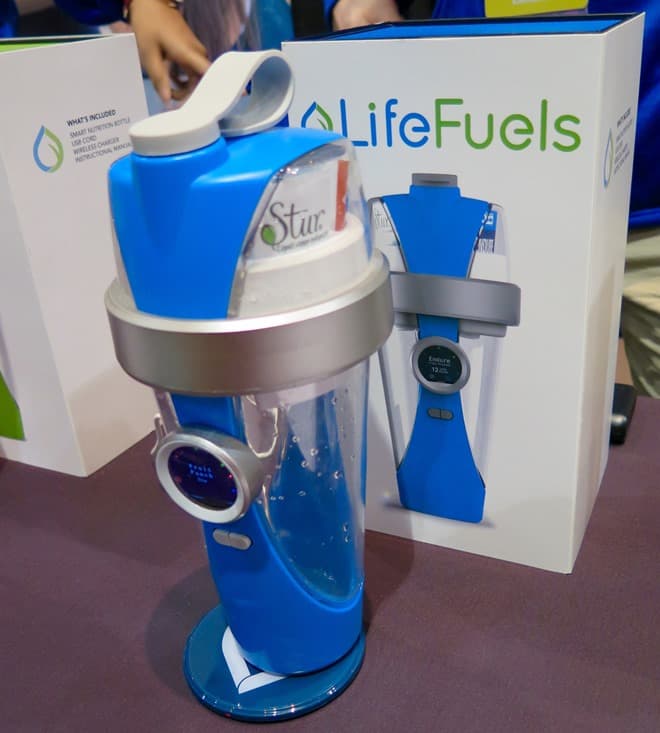 Photo Credit: by Esther S
Go Sun Stove
Sometimes, "eat better" is as much about the method of cooking as it is about the quality or quantity of food you eat. So if you're motivated to prepare meals more responsibly – or more conveniently, should you live in a rural area where the power cuts own during a storm – you might want to investigate the line of products from Go Sun Stove.
The Go Sun E-Grill fries, roasts, and bakes, powered by an electric heater or a solar panel that captures solar energy to cook after the sun goes down. These solar cookers are a long way from the folding aluminum screens I used in campsites, back in the 70s; those never actually came up to temperature, which is why I know what raw brownies taste like. Instead, the company promises that its solar stoves pre-heat in the same 20 minutes you expect from your regular house stove. It uses an evacuated glass tube that's a near-perfect insulator and effectively captures light from a broad range of angles.
GoSun stove has several models; prices start at $279US.
See? Now you have no excuse to eat poorly. And perhaps your "eat better!" resolution will stick with you for a lot longer.
###