Robert Salanitro specialized in children's book and illustrations with humors; he worked as a freelance cartoonist for Cipa certified Canadian Pharmacy.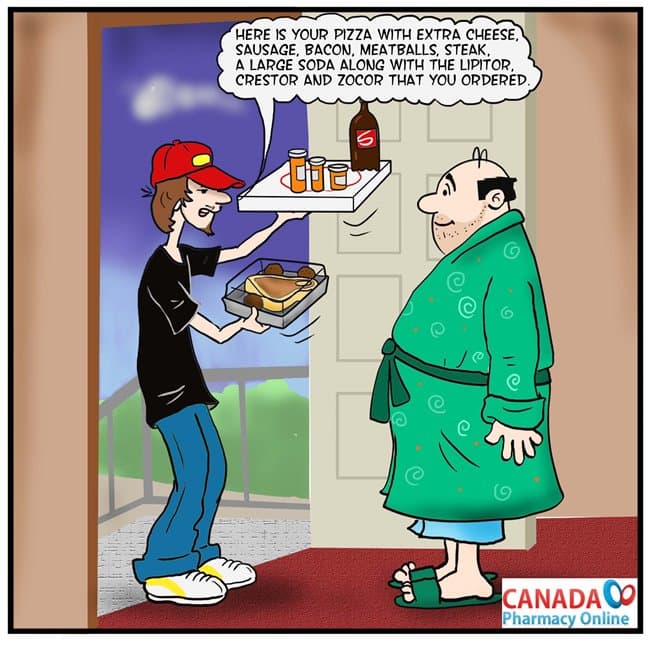 Hogan has been struggling with high cholesterol for quite sometime. Since his doctor's visit last spring he has been under strict orders to eat mostly vegetables, fruits and nuts. He must cut out a lot of his meat, dairy products and sweet intake. He also was prescribed by his doctor to take cholesterol medicine. Hogan has been finding it very difficult to stick to this rigid diet, but he knows it can save his life. He feels very tempted at times to eat a hamburger or just eat his favorite dessert, vanilla ice cream with lots of whipped cream on top.
It wasn't until one night, while Hogan watching his favorite TV show a pizza commercial came on. The commercial showed a pizza with oozing hot cheese melting. Hogan sat there sweating and feeling despair. He couldn't take it anymore, he reached for his phone and immediately called the local pizza restaurant. In a desperate voice he said, "I would like to order pizza with extra cheese, sausage, bacon, meatballs, steak and to drink a large soda, delivered, IMMEDIATELY". He paused and then said" Wait and I also need my Lipitor, Crestor and Zocor medicine delivered". An hour later Hogan sat in his dining room eating his long awaited meal, of course with a smile.
###
We hope you found our cartoon funny. Feel free to grab this code and share the image on your website or blog.