Robert Salanitro specialized in children's book and illustrations with humors; he worked as a freelance cartoonist for Canada Pharmacy Online.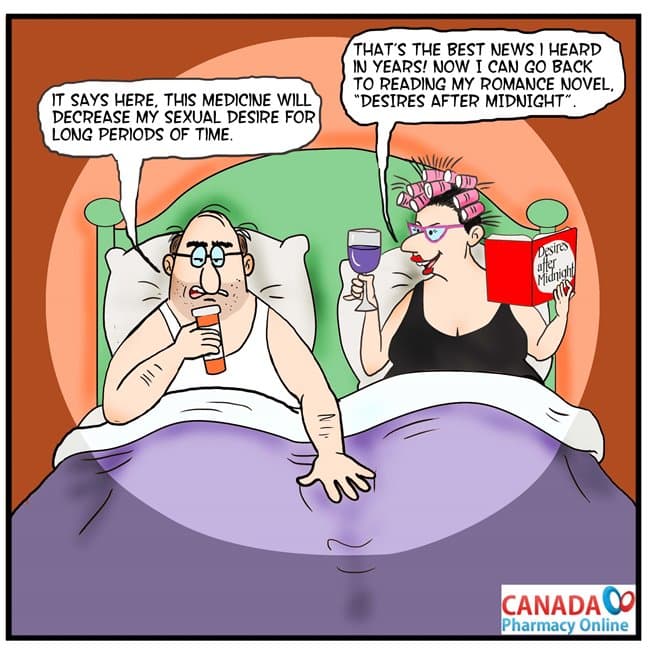 Barney has been having lower back pain for quite sometime. He finally went to doctor to have it looked at. The doctor prescribed him medicine to subside the pain, so without hesitation he went straight to pharmacy to get his medicine. That night, before bed, Barney got undressed, changed into his pajamas, grabbed his medicine and headed into bed. His wife laid quietly next to him almost ready to fall asleep. The blankets covered her from head to toe.
SEE ALSO: How to Save Money on Prescription Drugs to Ensure You're Getting Your Moneys Worth
As Barney sat there in bed, ready to take his medicine he quickly read the side effects on the bottle. He told his wife, "I have some bad news to tell you. He read aloud the side effects to his wife "This medicine will decrease my sexual desire for long periods of time". Then all of sudden his wife sprung up at bed with a big smile, holding a glass of wine and romance novel. Barney never saw his wife so energetic, happy and full of life. She said to him, "THAT'S THE BEST NEWS I HEARD IN YEARS! Now I can go back to reading my romance novel, Desires after Midnight". Barney turned to his wife with a smile and said, "GREAT, now I can go back to watching my football games".
###
We hope you found our cartoon funny. Feel free to grab this code and share the image on your website or blog.