Kristina Campbell is a freelance science writer and content marketer who creates quality blog content on digestive health for CanadaPharmacyOnline.com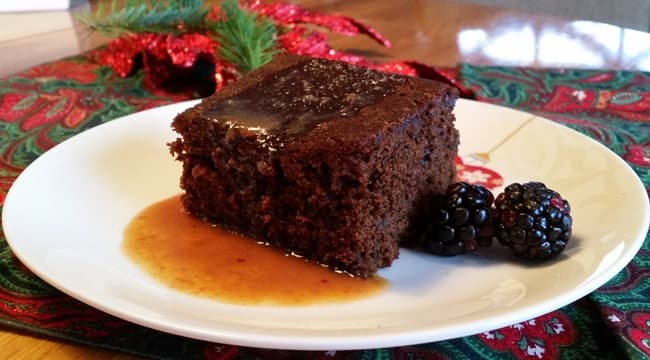 Photo Credit: by Kristina C
Few things evoke the holiday season so vividly as the smell and flavor of gingerbread – the tried and true trinity of cinnamon, ginger, and cloves, with undertones of molasses.
A gingerbread dessert puts the final touch on a holiday meal with family or friends. But in cookie form, gingerbread is a lot of work. All the mixing, rolling, cutting, and baking can take too much time.
Luckily, there's a shortcut to getting that famous taste into your Christmas dessert: gingerbread cake. This recipe takes all of 15 minutes to whip up, so you can be free to kick back with your eggnog while it fills the house with its comfortable smell.
Ginger-caramel sauce drizzled over each piece will make it a showstopper. The sauce takes more diligence to prepare at the last minute, but the cake is already so good that the sauce is optional. A dab of whipped cream will do just as well.
SEE ALSO: Finding Happiness This Winter, One Red Cup at A Time
It's far from a fussy dessert, but it will please the most sophisticated family member in its classic simplicity. And as for the kids, they'll have absolutely no problem making it disappear.
Spelt flour does double duty by adding a subtle depth to the flavor and providing added fiber for health. But the real healthy secret hidden in this cake is the pureed prunes. Your family and friends won't even taste these fiber-packed nuggets, which according to the latest research, can positively affect the friendly bacteria living in your gut and might even help reduce the risk of colon cancer. If anyone asks about the ingredients, just wink and tell them it is possible to have your cake and eat your fiber, too. It's the magic of Christmas.
Easy gingerbread cake
INGREDIENTS
• 1/2 cup unsalted butter
• 1/2 cup sugar
• 1 egg, beaten
• 1/2 cup molasses
• 1 Tbsp water
• 10 medium prunes
• 2 cups spelt flour
• 1 1/2 tsp baking soda
• 1/4 tsp salt
• 1 tsp cinnamon
• 1 tsp powdered ginger
• 1/4 tsp cloves
• 3/4 cup hot water
DIRECTIONS
Cream butter and sugar. Add egg and molasses and stir.
To puree the prunes, put the 1 Tbsp water into a blender. Add one prune, cover, and blend. Continue adding prunes one by one, blending after each addition.
Add 1/4 cup of the prune puree to the molasses mixture and blend well.
In a separate bowl, mix together flour, baking soda, salt, cinnamon, ginger, and cloves. Pour molasses mixture into these dry ingredients and blend well. Finally, add hot water and mix.
Pour into a greased 9-by-9-inch cake pan and bake at 350 degrees F for 40 minutes.
Ginger-caramel sauce
INGREDIENTS
• 1 cup whole milk
• 1 Tbsp fresh ginger, peeled and diced
• 1 cup sugar
• 1/4 cup water
• 1/8 tsp salt
• 2 Tbsp butter
DIRECTIONS
Pour milk into a small saucepan and add ginger. Bring to a boil over medium-high heat. Set aside for 15 minutes, stirring occasionally, to allow the ginger to infuse the milk. Strain out ginger pieces with a sieve and set milk aside.
In another small saucepan, combine sugar and water, stirring to moisten. Turn heat to medium-high. Swirl the saucepan occasionally, but don't stir it. After approximately 10 minutes, the mixture should start to turn a golden color. Watch carefully and keep swirling the saucepan, removing from heat when the mixture is caramel brown in color.
Add about 1 Tbsp of the milk mixture to the caramel and stir while it bubbles up furiously. Continue adding the milk mixture a little at a time until mixed with caramel.
Return mixture to low heat. Add butter and salt, stirring until smooth. Spoon over individual servings of cake.
###