Ainsley Smith is a communications professional with experience in multi-media journalism with more than two years of experience working as a reporter. She currently worked as a freelance writer specializing in lifestyle content and excited to share on CanadaPharmacyOnline.com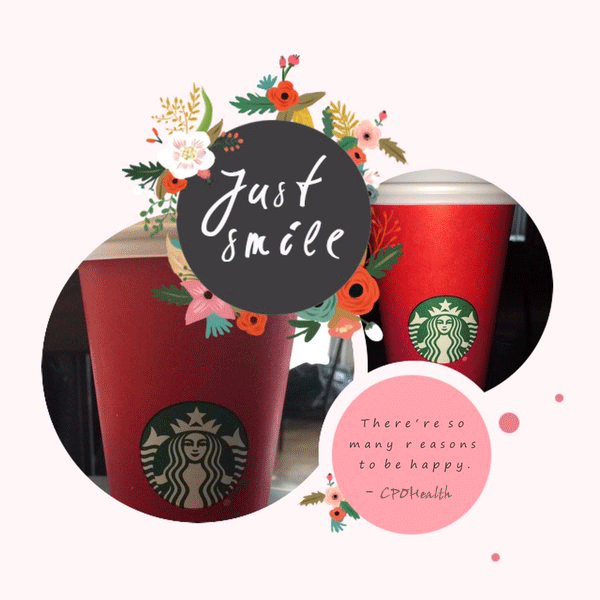 As the colder days set in and darker skies are more frequent than blue, it is not uncommon to feel like you lost the pep in your step, or you lost your motivation and drive. It is true that colder temperatures and a lack of sunshine can bring on the winter blues, but instead of letting the cold weather get the best of you, embrace it and find happiness in other ways.
It is strange to imagine, but one of the easiest ways to find happiness is located in your Starbucks red holiday cup. Truly savoring the coffee experience is beautiful in it's simplicity and taking the time to enjoy a cup is the perfect way to find a small dose of happiness this holiday season.
SEE ALSO: The History of Chocolate as A Health Food
We often find ourselves so wrapped up in our hectic schedules, racing from meeting to appointment and only having a second to sip our coffee or lattes as we hurriedly check things off our mental checklists, missing out on the opportunity to take in everything that makes coffee so wonderful. You miss out on the smell of the fresh ground coffee beans, or the stimulation you feel as you hold your warm cup in your hands and bring it to your lips and indulge in your first sip.
Alone:
This winter, rediscover the simple joy of sitting down and enjoying a cup of coffee all on your own, free from distractions. Sit still and savour the coffee cup in front of you and indulge in the aromatic experience, arousing all five senses. Take note of what you touch, hear, taste, see and smell as you leisurely enjoy your beverage and relish in the feeling of true happiness.
In a group:
In many countries, drinking coffee is an indulging social experience. Little bistros and cafes line crowded streets and groups of people socialize over tiny espressos, truly letting time slip away as they forget about their worries. This holiday season if you are feeling a bit blue, reach out to old friends and make the time to catch up over coffee and enjoy the experience together. Socializing plays a huge role in your happiness and quality of life, so by dedicating a few hours a week to chat and relax with friends will drastically improve your winter blues.
For others:
Another great way to find happiness this winter season is to appreciate those around you and do a random act of kindness for a stranger. Next time you are in line to get a coffee, pay the tab for the person behind you. It will not only leave you feeling better, but the simple act can leave a lasting impact on a person. When you realize that someone has taken the time to notice you, it can really brighten your day.
Outside of the coffee shop:
Finally, if you are looking for something to get you out of your winter funk and into the holiday spirit, you're going to need a few Starbucks red holiday cups (when you are finished catching up with friends over a coffee this winter, save your red cup and lid and rinse them out).
Supplies needed:
-10-12 Starbucks red holiday cups and lids
-1 Strand of twinkle lights
-Knife
Steps:
-After you wash out your cups and lids, flip the cups upside down and cut a very small X into the bottom of the cup
-Push the each light through the bottom of a cup
-Once all of the lights have been pushed through the bottom of the cups, put on the lids
Follow these easy tips to find happiness in your Starbucks red cup this holiday season.
###