Robert Salanitro specialized in children's book and illustrations with humors; he worked as a freelance cartoonist for Canadian internet pharmacy.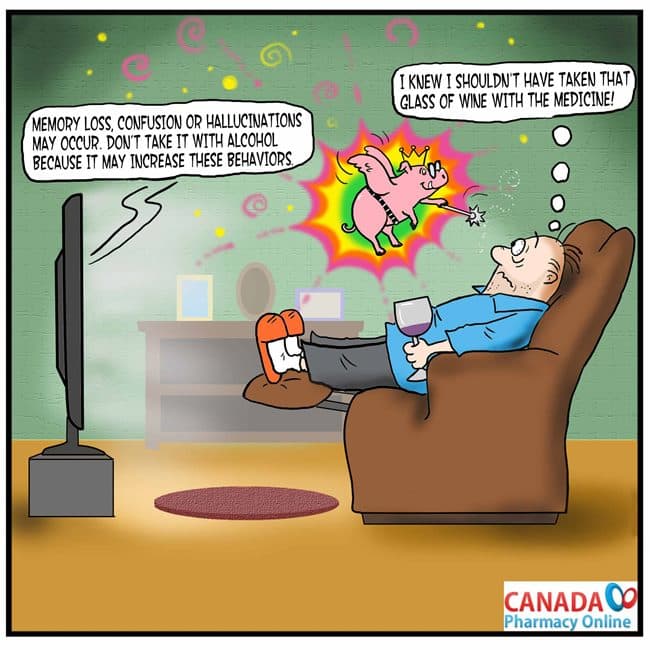 Herbie has a sleeping problem and needs to take sleeping medicine to help him get a good night sleep. The problem with Herbie, he is not very good about taking medicine. He is sometimes careless, eating foods when he is not supposed to, oversleeping and forgetting to take his medicine. He even took his dog's medicine one time, thinking it was his medicine..
SEE ALSO: Unwanted Side Effects
One night Herbie retuned home from work and did his regular routine. He first undressed into pajamas and took his sleeping medicine. Then he sits in front of his TV and sips on a glass of red wine. While watching his favorite TV show Herbie started to feel quite strange. All of a sudden a yellow ball appeared and out bursted a flying pig wearing eye glasses. He was sprinkling fairy dust all over. "This can't be happening", Herbie said. Then he saw his medicine commercial on TV and it said the following, "Confusions or hallucinations may occur. Don't take it with alcohol because it may increase these behaviors." His hallucinations continued, now with flying horses and talking gorillas.
###
We hope you found our cartoon funny. Feel free to grab this code and share the image on your website or blog.