Carrie Borzillo is an award-winning journalist and author of three books. She writes about sex/relationships for Men's Health, DAME, and Canada Pharmacy Online.
Valentine's Day can cause a lot of fear, nervousness, and uncertainty in couples. Picking the right gift and planning the perfect date puts a lot of stress on, well, usually the man, who traditionally is expected to turn into Prince Charming overnight and deliver a V-Day celebration worthy of a princess. Expectations are usually too high to meet.
Well, I have good news for you, guys. Most women don't care about Valentine's Day as much as you think. In fact, a recent study about relationship confessions commissioned by epi23, the parent company that owns the Womanizer sex toy products, recently reported that Valentine's Day was the No. 1 holiday that women dread the most when in a relationship with 41% of the vote.
"I hate Valentine's Day," admits Tracy, 34, who will be celebrating her first Valentine's Day with a new boyfriend this year. "It just seems so forced and even though he's the one where most of the pressure is on, I feel the stress too over what to give him."
The biggest stressor is the gift. Before you shell out mega-bucks for a diamond necklace or another extravagant gift, know this: Zero (yes, 0%) of women surveyed cited "bad gift-giver" as the biggest mistake a guy could make in a relationship. Broken trust topped the list with 61%, while being too self-absorbed came in second with 22%
So what type of gift did women surveyed say thing like? "Nothing" was the top answer with 44%. Dinner came in second with 28% followed by flowers with 25% and jewelry with a mere 2%
On the list of the corniest V-Day gifts, serenading your partner with a song came in first with 40%, followed by rose petals on the bed (21%), a gift certificate (21%), lingerie (10%), and chocolate (8%)
The survey also asked women, "When in a relationship, are you willing to try any of the following on Valentine's Day?" A surprising 43% answered "nothing." A new sex position came in next with 15% followed by a sex toy (13%), role play (11%), daring location (11%) and coming in last was bondage (6%)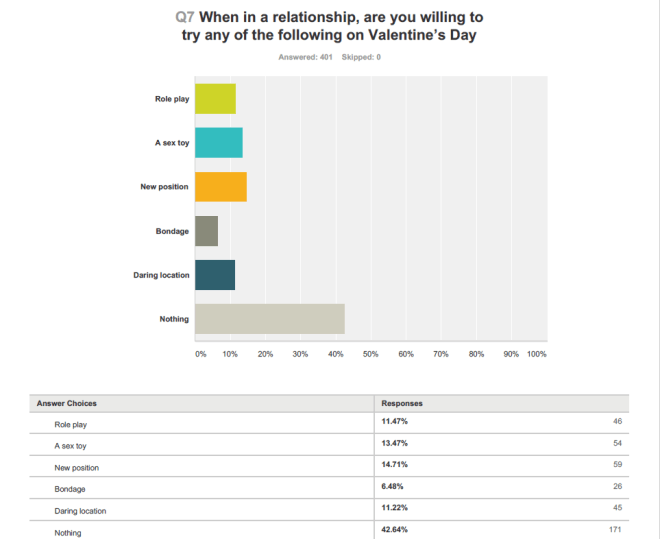 If you want to try something new for your Valentine's Day night, here FIX THIS TK.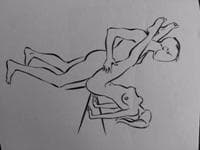 Photo Credit: from the book "Classic Sex Positions Reinvented"
New Sex Position
: Try "The Venus Necklace" position. In this position, the woman sits on a table, the edge of the bed, or a chair and leans back. She raises her legs up to his shoulders and wraps her ankles around the back of his neck. He can then enter her from this position.
Sex Toy: One of the most popular sex toys for couples is the We-Vibe Sync Massager, which syncs to a mobile app so you can control it from your phone. It's the first customizable fit couples vibrator. You can form the product to fit your individual shape so it stays in place when you change positions to provide the best hands-free experience. It also vibrates to the rhythm of your favorite music.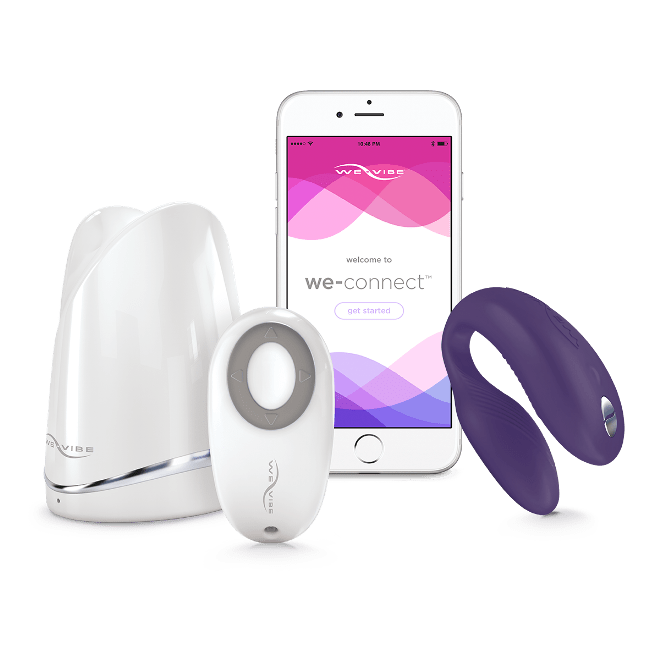 Photo Credit: by we-vibe.com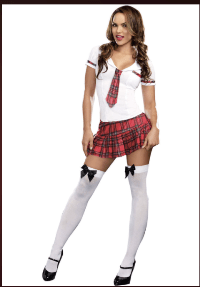 Photo Credit: by PartyZoneUSA.com
Role Play: Ask your partner what his/her fantasy is and gear up. The good news about this is that you can buy head-to-toe role-play costumes for under $30 at many sex shops, costume stores, or even lingerie stores online. PartyZoneUSA, for instance, has a Naughty School Girl outfit for just $18.99. The key to role-play is no matter how silly it might feel at first, don't go out of character. Keep with it even if you're giggling!
Daring Location: For some, the kitchen table might be considered a daring location. But, if you want to take it up a notch, as you're out for your Valentine's Day dinner, perhaps you both excuse yourselves to the restroom for a little quickie.
Bondage: If you're new to bondage, try the Bondage Seductions kit from The Pleasure Chest for just $22.95. The kit comes with 36 bondage seduction cards with instructions on what to do, as well as two silky ties for binding your partner to the bed or a chair, dice, a blindfold, and a rubber flogger.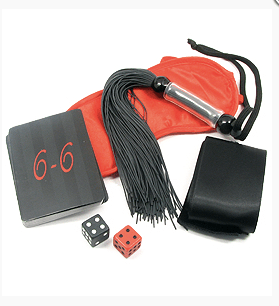 Photo Credit: by the Pleasure Chest
###